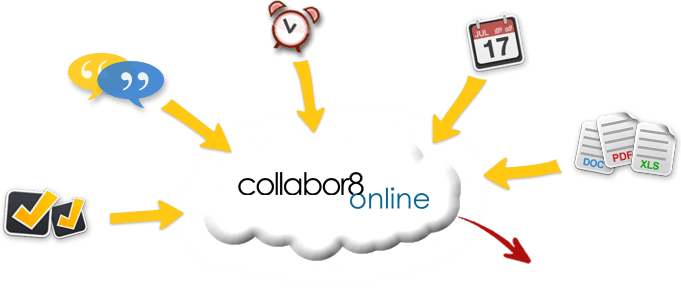 Collabor8online allows you to  create a "workspace" or "online folder" for any project, event, client or team and invite colleagues, contacts or clients to join. Anyone you invite from another organisation doesn't need to "have" Collabor8 online; you're effectively inviting them to "your" Collabor8 environment.

A "workspace" is made up of folders (just like the ones you create on your desktop), simple security measures make sure that anyone you invite can only see the folders that you've invited them to. This means that you can invite people to work on certain projects, without them seeing any other projects that you're working on.
Video Guides
What's it used for?
Mostly  as an Online Project Management Tool;
Manage projects within secure folders
Work with colleagues, contacts, clients and suppliers in the same secure environment
Simple task management
Calendars to coordinate resources
Share files securely without the need to email attachments
Online discussions and announcements
Monitor progress with automatic e-mail notifications and watch pages
Sometimes just for managing Files and Documents or People;
Upload documents of any file format
Store up to 10GB of files*
Automatic Version control (to ensure you are always using the latest version)
You can Comment on documents rather than email
*If you need more space just call !
Why would I want to use Collabor8 rather than send documents in an email?
By working together online you keep the size of your emails down. You get the information out of your inbox and on to the project where it belongs. Large emails can often fall foul of email policies which limit the size of emails sent/received, e-mails can be forwarded, lost or simply ignored. By collaborating online, you always make sure that everybody is working on the latest version (we call it "one version of the truth").
As an online application you can access the information from anywhere, office, site or home, you don't need to be in the office with e-mail access or access to your own servers.
What about security?
You create the workspaces (folders) and you decide who has access to them. Access can be view only, view and edit or view edit and delete. Or of course no access, (in which case the user will simply not see that the folder exists at all). This way you have a secure private Internet (or private extranet); you can remove or change access rights any time.
How does it help me keep on top of things?
You can place any projects or folders or individual documents on "watch" alert, so that whenever anybody edits or changes a "watched" item you will be automatically notified by an e-mail. If you'd like the full picture, the system incorporate RSS feeds (real simple syndication), which can be automatically fed to your desktop browser or e-mail system. This way managers or supervisors can get a bird's eye view of the whole project.
How easy is it to use?
The system has been designed to look and feel like Windows Explorer (with apologies to Mac users, who can also use Collabor8online). In other words, if you've ever created a folder on your desktop or in your "My Documents" folder you'll be able to use Collabor8online. Adding attachments (documents or images) is a simple matter of clicking one button; new pages can be added in a similar way. Finally, text can be added using a simple rich text editor (in plain English something that looks and works a lot like Microsoft Word).
How can I sign up; how long do I have to sign up for?
You can sign up online, at our website here, you pay month by month and we take most major debit and credit cards. Alternatively after the initial month you can pay by standing order. (You can also save by paying 12 months in advance!*)
We have fully embraced the concept of an online model; there is no contract to sign and no fixed term contract, you can cancel at any time with one months notice.
What about my free 30 day period?
Although your credit card will be charged with the initial one month payment, if you write or e-mail to us to cancel within 30 days of signing up your initial payment will be refunded in full.
If I cancel do I lose my data?
If you cancel your account, your data at that time will be deleted (but we assume that you must have had an original copy to upload it in the first place!) and you can always make a back up. If you wish to migrate your data to an alternative system we will of course offer whatever assistance we can.
Any questions?
Contact Us
Try For Free