Flexible Feature Based Pricing
UK Owned, Hosted and Supported
Unlimited Users, Unlimited Projects
Choose Collabor8Online for a Better Experience
Collabor8Online offers a streamlined and intuitive interface that aligns seamlessly with UK construction best practices and regulations. Its user-centric design prioritises accessibility and ease of use, ensuring that professionals can quickly adapt and maximise productivity without a steep learning curve. Let's take a closer look at how Collabor8Online stands out as a compelling Procore alternative, providing tailor-made solutions for the UK construction industry.
Key Features and Benefits
Collabor8Online is equipped with a robust drawing revision and control functionality, coupled with advanced document workflow and a comprehensive drawing PDF and DWG viewer. This feature set ensures seamless project progression and efficient collaboration within your team. One standout aspect of Collabor8Online is its ease of use. Unlike many systems, including Procore, Collabor8Online is designed for effortless navigation and utilisation, making it the preferred choice for many of the UK's leading contractors.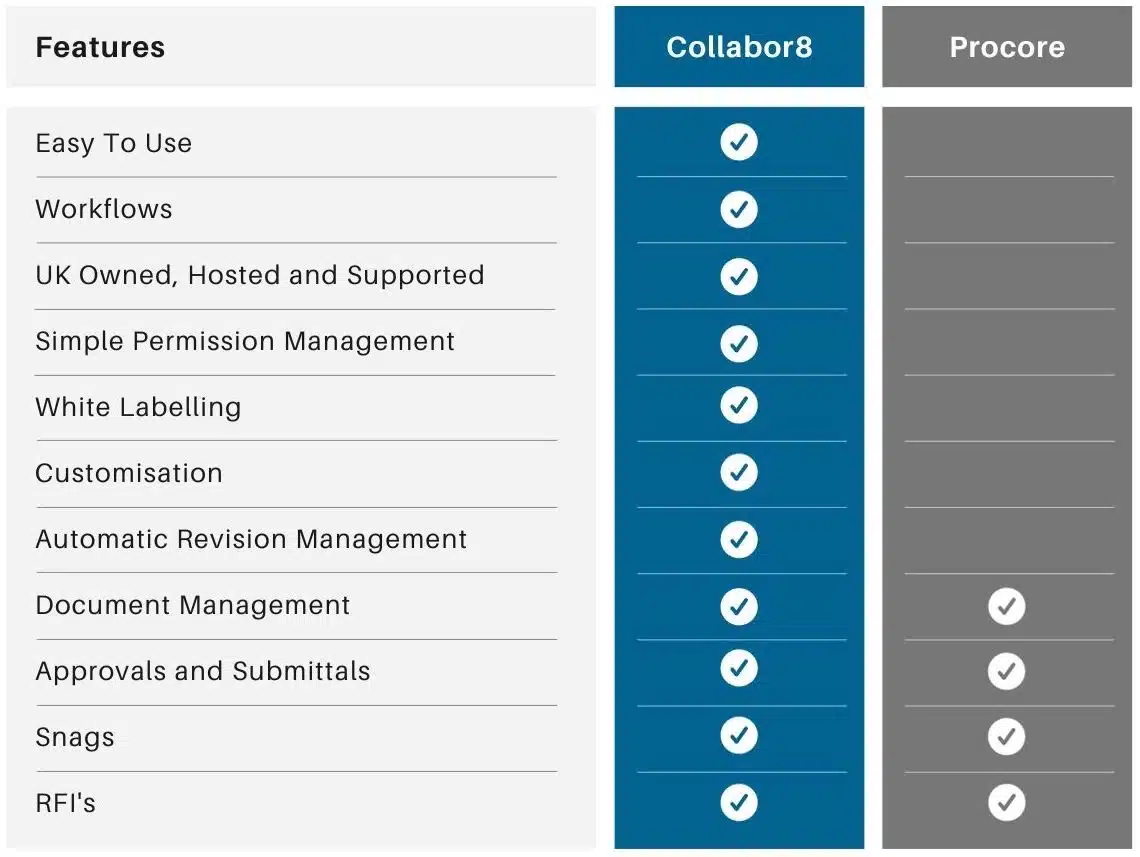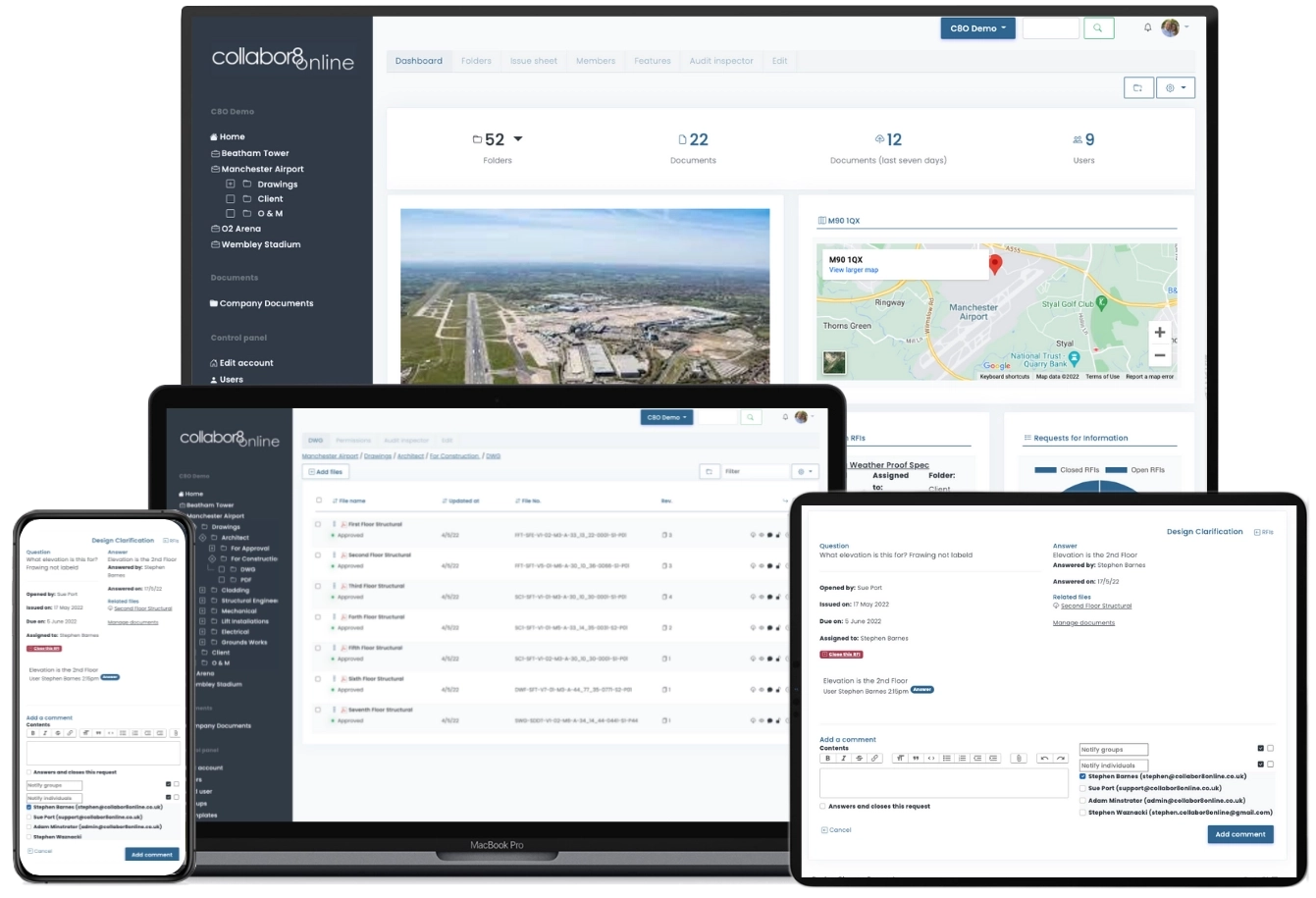 Prices and Plans
Collabor8Online's pricing structure is tailored to suit all sizes of business, offering flexible packages to match specific feature requirements. What sets Collabor8Online apart is the flexibility in payment options, allowing you to choose between annual or monthly payments without compromising on features. Plus, opting for an annual plan earns you a discounted rate.

UK Owened Hosted and Supported
Collabor8Online takes immense pride in being a UK-owned, hosted, and supported platform, setting it apart from Procore, an American-based service. This distinction is crucial in ensuring localized support, a keen understanding of the UK market, and reliable, homegrown hosting that complies with UK data privacy and security regulations. Being UK-based means we are deeply rooted in the local business landscape, allowing us to cater specifically to the unique needs and regulations of the UK construction industry.
Hosted entirely in the UK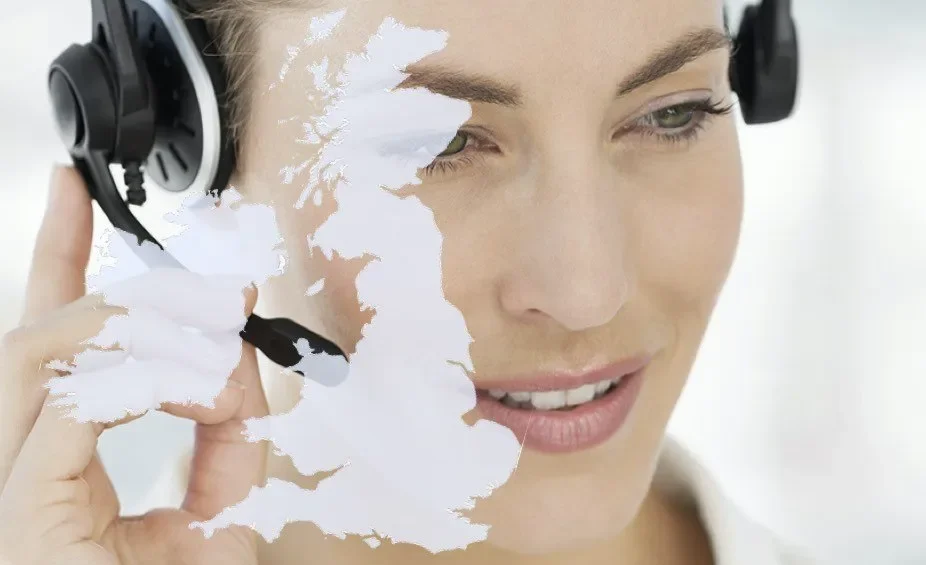 Our Clients
Collabor8Online takes immense pride in nurturing strong relationships with our clients across a multitude of disciplines.zxThese relationships have been pivotal in our journey to develop an excellent industry knowledge base, enabling us to provide everyone with superb customer care. Through ongoing engagement and collaboration with clients from various sectors, we've amassed invaluable insights and a deep understanding of their unique needs, challenges, and aspirations. This wealth of knowledge empowers us to tailor our services and solutions, ensuring that we deliver nothing less than exceptional customer care. It's through these enduring relationships and the trust our clients place in us that we've honed our expertise, positioning Collabor8Online as a premier provider, committed to delivering unparalleled support and satisfaction across the board.

Project Managers / Consultants
Customer Support and Training
Collabor8Online places great importance on delivering not just excellent customer service but also a fantastic product experience. Our dedicated account managers go the extra mile to ensure a personalised and seamless journey for our clients. We understand that delivering a top-notch product is just as crucial as providing excellent customer service. Our commitment extends to offering comprehensive training and rollout support to empower our clients with the necessary knowledge and resources to make the most of our platform.
In contrast to Procore, we firmly believe that the value of a product lies in its ability to meet and exceed client expectations. We actively seek and welcome client feedback, valuing their perspectives and insights. This feedback becomes a cornerstone in guiding our continuous product development efforts, ensuring that our offerings align precisely with the evolving needs of our clients. By embracing client input and incorporating it into our product enhancements, we ensure that Collabor8Online remains a dynamic and reliable solution that truly caters to the demands of our users.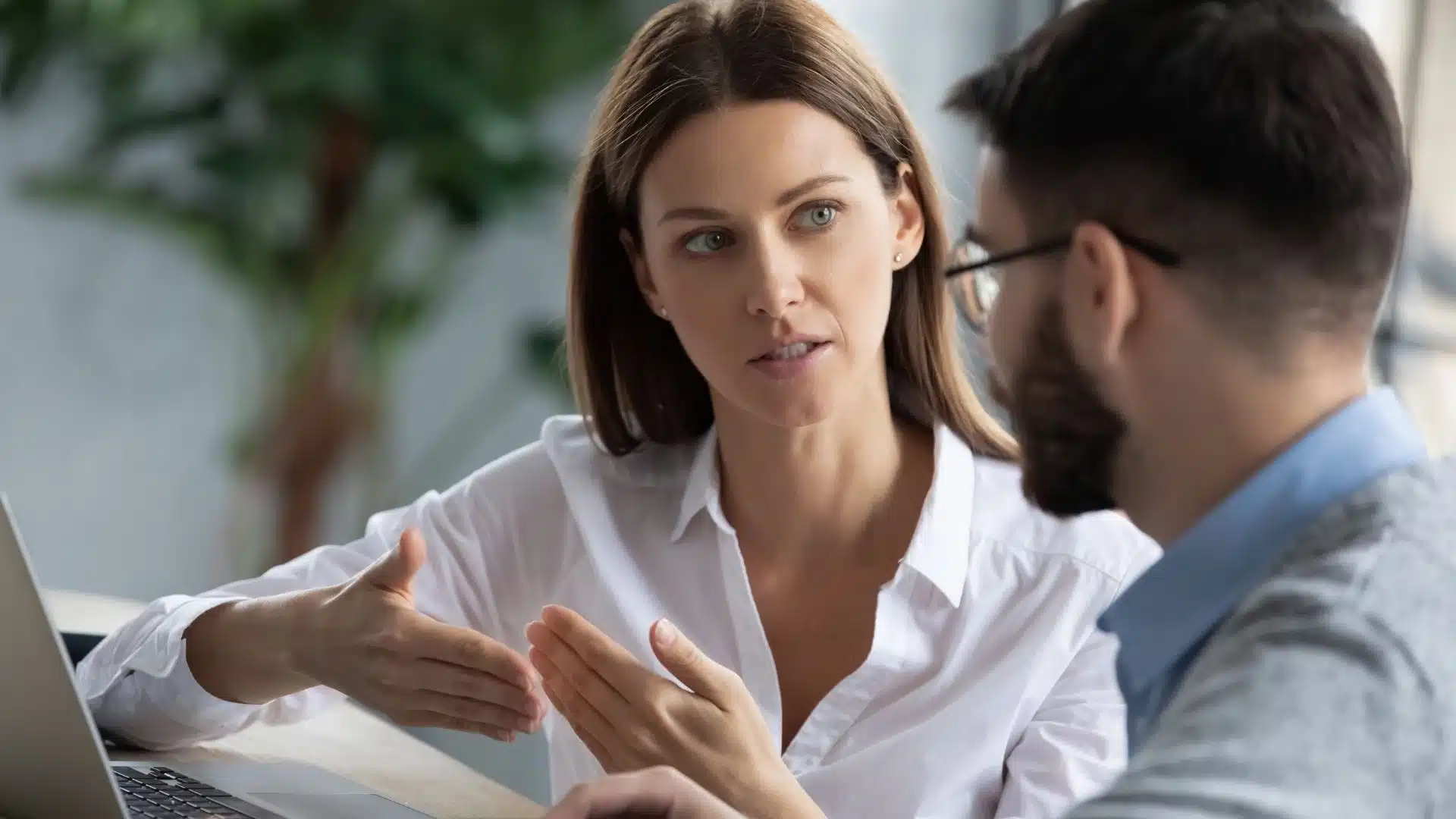 Free Demo
Request a free demo and start sharing your files securely and easily within your business.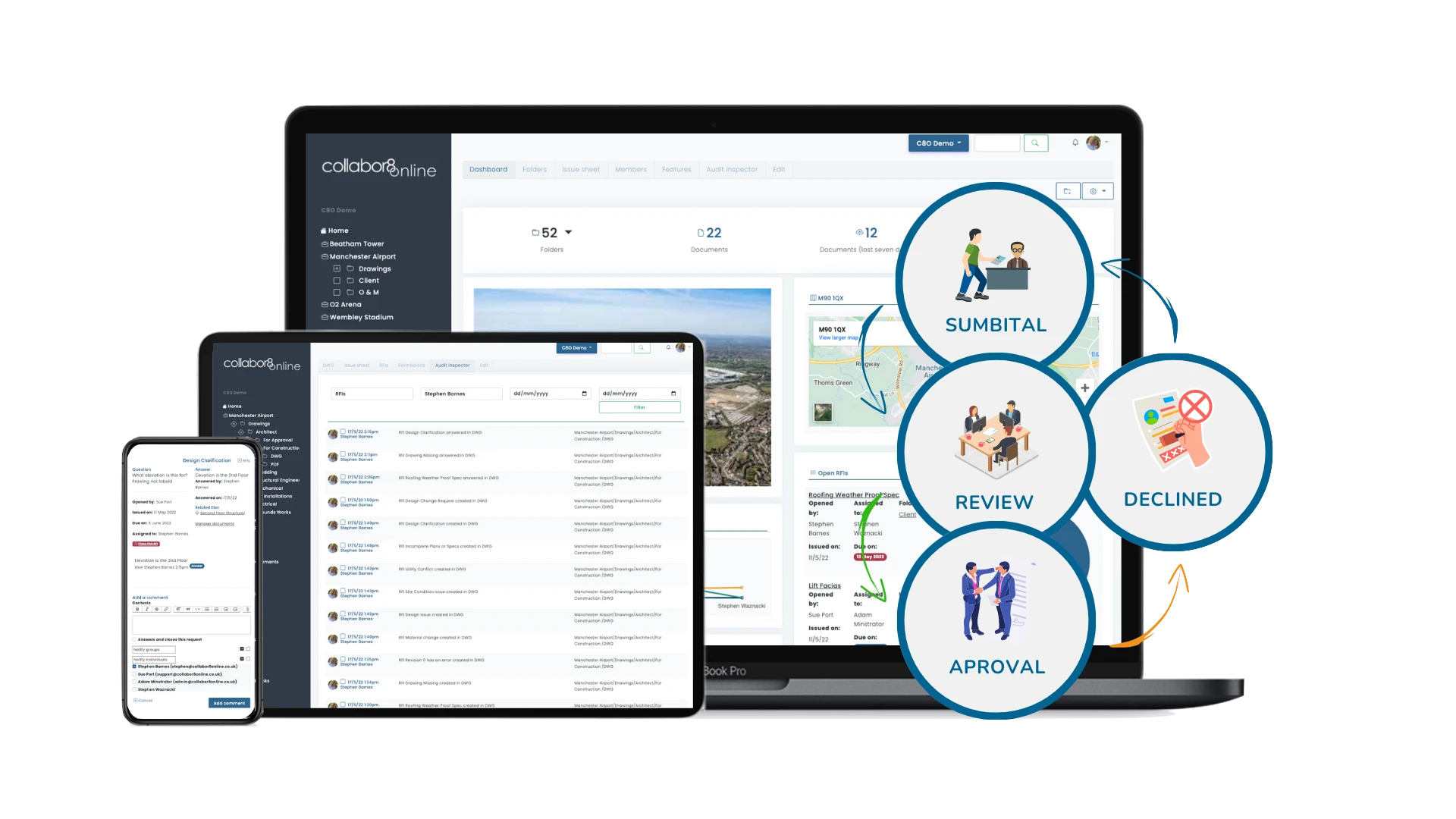 Performance and Reliability
Collabor8Online places product performance and reliability at the forefront of our priorities. We believe that a robust and dependable platform is fundamental to empowering our clients and facilitating seamless project management. Our development team is committed to constantly enhancing the performance of Collabor8Online, ensuring it operates efficiently even under demanding workloads. Reliability is ingrained into our product's DNA, aiming to provide our clients with a consistent and trustworthy tool that they can rely on for critical project operations. We conduct rigorous testing and implement cutting-edge technologies to maintain a high level of reliability, guaranteeing that Collabor8Online consistently meets and exceeds the expectations of our users.
Scalability and Flexibility
Collabor8Online offers flexible scalability, enabling your business to effortlessly upgrade packages as it grows and requirements evolve. Our platform adeptly adjusts to your needs, guaranteeing that you always have the necessary resources at your fingertips. Whether your project demands expansion or contraction, our solution remains adaptable, ensuring optimal performance and resource allocation. This adaptability is crucial in the ever-changing business landscape, where being able to scale up or down swiftly and smoothly is essential for maintaining efficiency and effectiveness in project management. With Collabor8Online, you have the freedom to tailor your experience to suit your evolving demands, making it a versatile and indispensable tool for your growing business.