Collabor8online is the perfect solution for all your construction snag list needs. It offers a comprehensive, user-friendly platform that streamlines the entire snag process, from identification to resolution. With Collabor8online, you can easily create and manage snag lists, communicate with your team, and track progress in real-time. Plus, its mobile compatibility means you can access all your data from anywhere, at any time. Don't settle for a fragmented, inefficient process. Choose Collabor8online and experience a seamless, organized construction workflow today.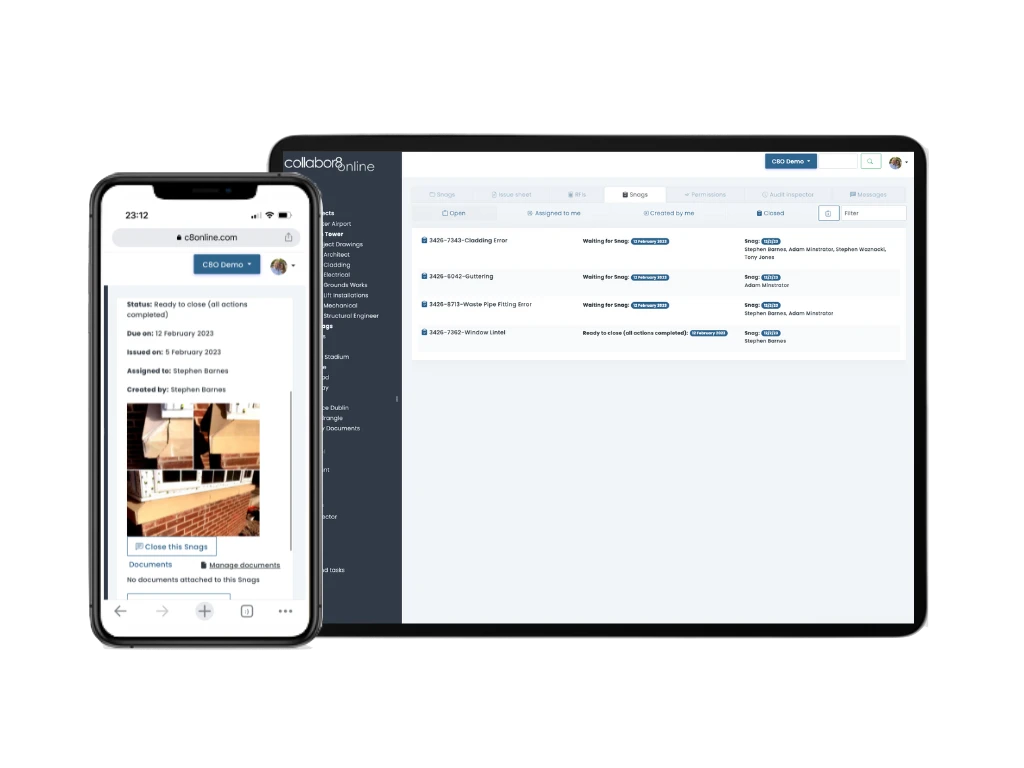 Quickly Create Snag Lists Directly From Site
Save time and reduce errors by quickly creating snag lists directly from the construction site with collabor8online! No need to wait until you get back to the office to document issues, our system allows you to capture snags, attach photos and make notes on the go. This ensures that all information is accurate and up-to-date, and you can avoid missed deadlines and costly mistakes. With collabor8online, you can also easily share your snag lists with your team for faster resolution. Don't let snags slow down your construction process.
Create Snag Lists Using QR code
Collabor8online's QR code feature provides a quick and convenient way for users to create snag lists on site. By simply scanning a QR code, users are taken directly to the snag list environment within Collabor8online, saving time and improving efficiency. This feature allows users to quickly identify areas that need attention, as well as keep track of any progress or updates made to the snag lists. Additionally, the use of QR codes also helps to minimize errors and improves accuracy, as the codes provide a direct link to the correct location on site. Overall, the QR code feature in Collabor8online provides a simple and effective solution for creating and managing snag lists, helping to streamline the process and improve collaboration between team members.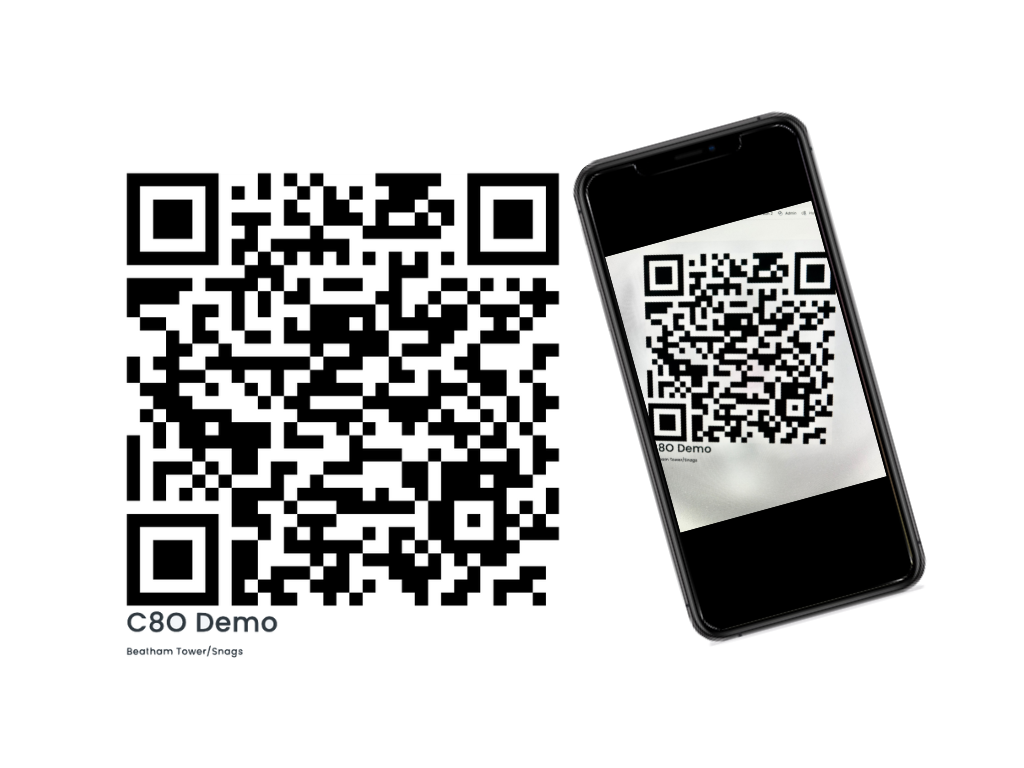 Create a Snag List Directly From Your Mobile or Tablet
Streamline your construction process with ease by creating a snag list directly from your mobile device! No more need for paper and pen, no more misplacing important information. With just a few taps, you can have all your snags, photos and notes organized in one place, accessible from anywhere and anytime. Don't wait, get started now and simplify your construction work today.
Free Demo
Request a free demo and start sharing your files securely and easily within your business.
Monitor Your Snag Progress in Real time.
Monitor the progress of snags in real-time with our project dashboards. With its user-friendly interface and real-time updates, the snag dashboard provides a comprehensive overview of the status of each snag, from start to finish. The ability to track snags in real-time allows clients to identify any potential workload issues.
The snag dashboard also enables clients to collaborate effectively with their project teams, providing a platform for instant communication and ensuring everyone is on the same page. By providing clients with a clear and up-to-date view of their snags, Collabor8online's snags dashboard empowers them to make informed decisions and take a proactive approach to project management.
Collabor8online also provides a company dashboard configured for each user, enabling senior figures with organisations to customise their users' dashboards to show them information relevant to them and their projects, whilst configuring their own dashboards to give them a helicopter view allowing them to monitor overall project progress and monitor key issues, milestones and endpoints.
Advance Snag List for Reporting
Maximize the efficiency of your construction project with Collabor8online's advanced snag list reporting feature! It provides you with a comprehensive, organized overview of all snags, allowing you to track progress and make informed decisions. With customizable reporting options, you can tailor your reports to meet the specific needs of your project, and easily share them with stakeholders. Monitor progress, and with instant access to key reports, identify any missed deadlines. 
Construction Document Management
Email Integration
Say goodbye to missed deadlines and lost information with Collabor8online's email integration feature! It seamlessly integrates with your email system, allowing you to receive notifications of new snags and updates in real-time. You can also quickly respond to snag reports, share important information with your team, and track progress all from your inbox.
This streamlines your construction process and ensures that everyone stays informed and up-to-date, no matter where they are. Don't let communication breakdowns hold your project back – choose Collabor8online and take advantage of seamless email integration today!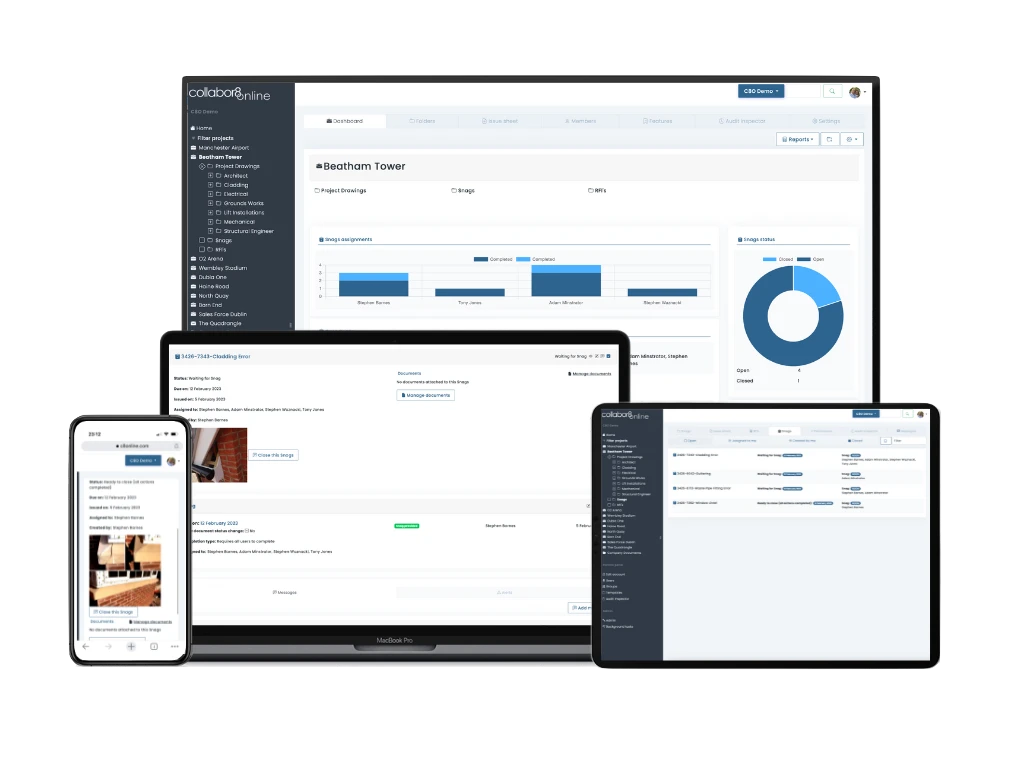 Prices and Plans
We offer a wide range of systems and services to enable our clients Manage projects online and share documents quickly & efficiently with unlimited users
.