Simplify Your RFI Process
Document Management Guide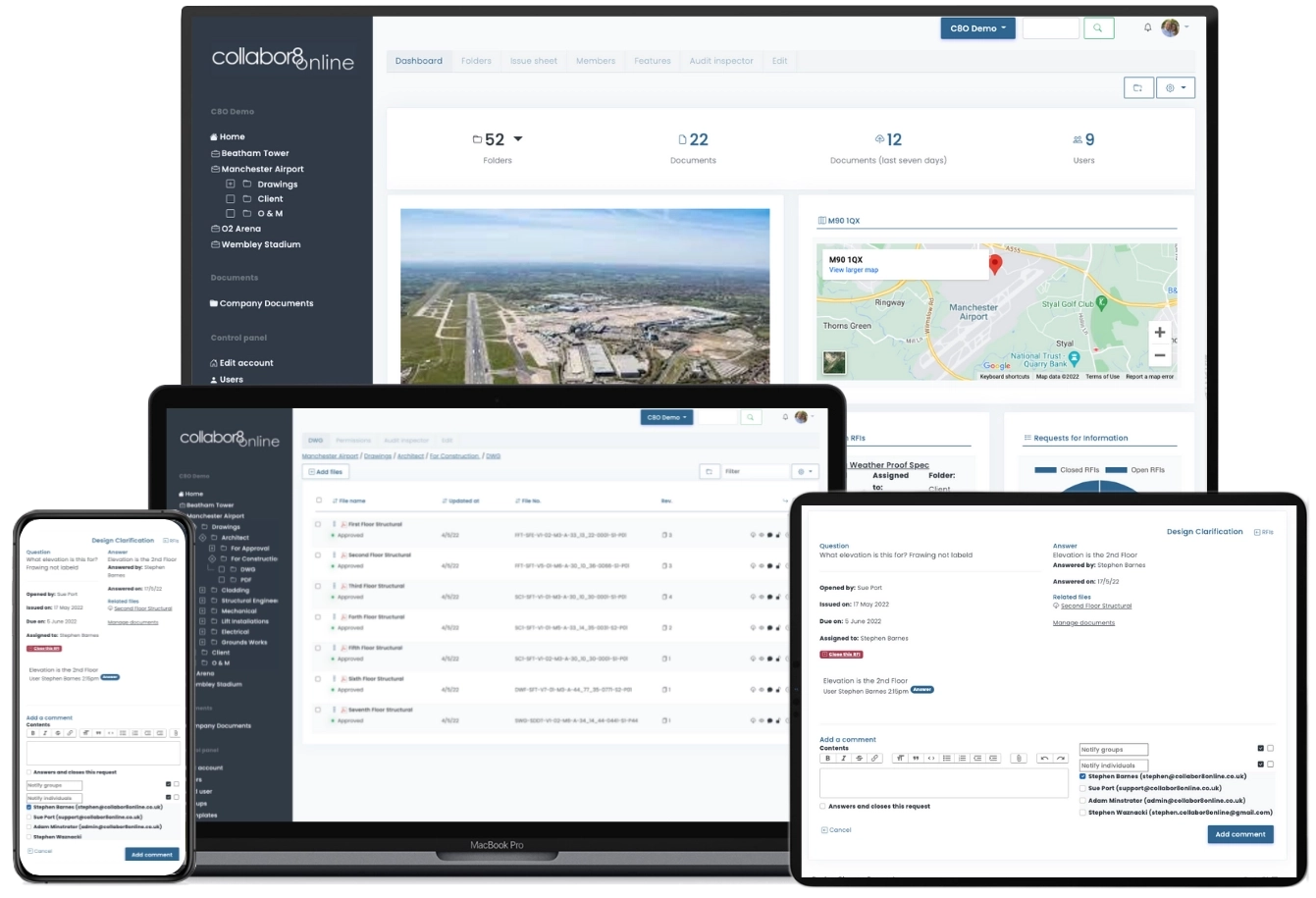 RFI Management
Having a comprehensive yet simple to use Requests-for-Information (RFIs) system is vital for any successful company in the construction sector. Collabor8online allows its users to raise, answer and manage all of their project RFI's simply and efficiently. Due dates may also be set, ensuring that deadlines are never missed. RFI's can be assigned to any individual and, system administrators can determine who can or cannot formally close any RFI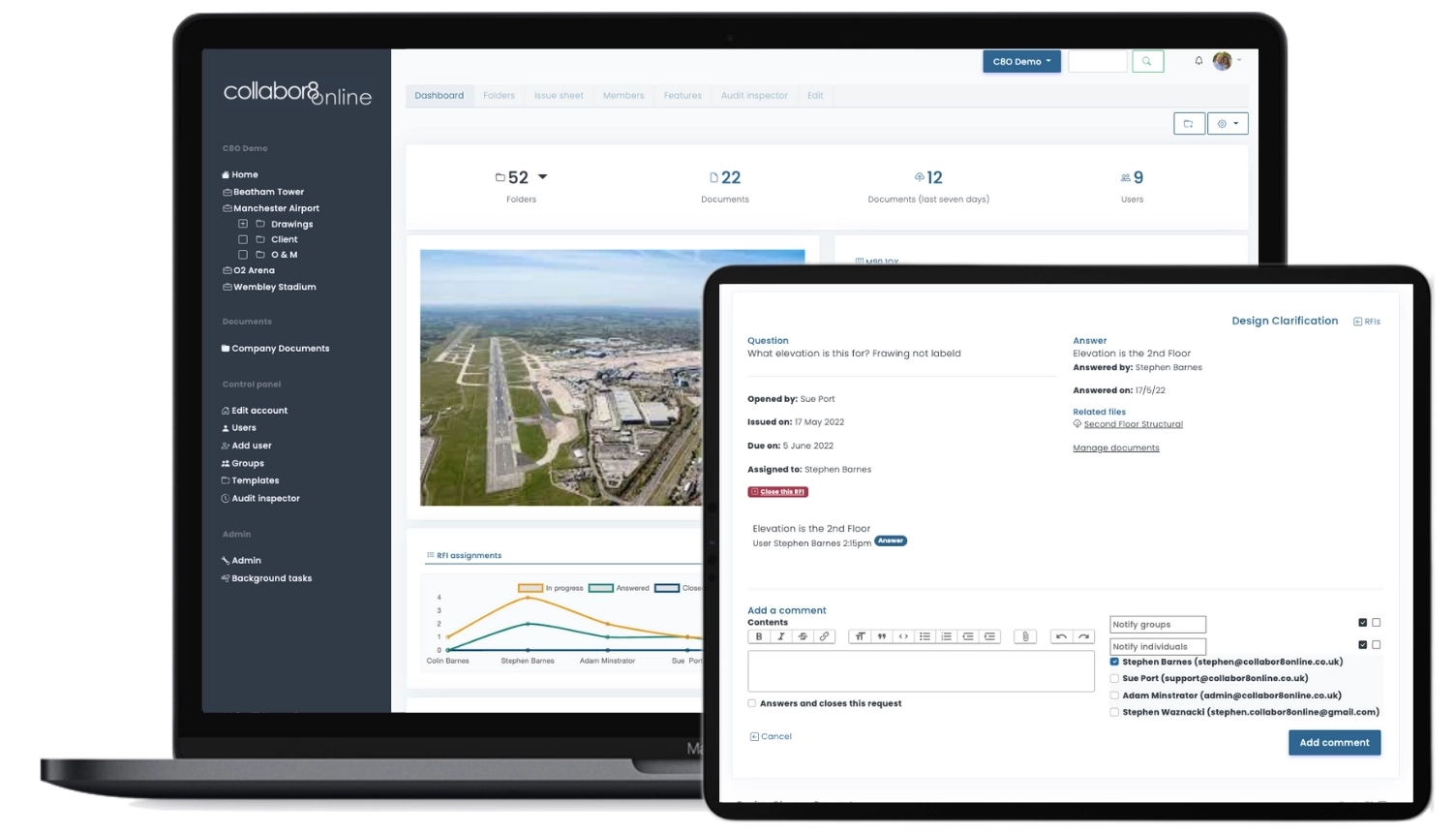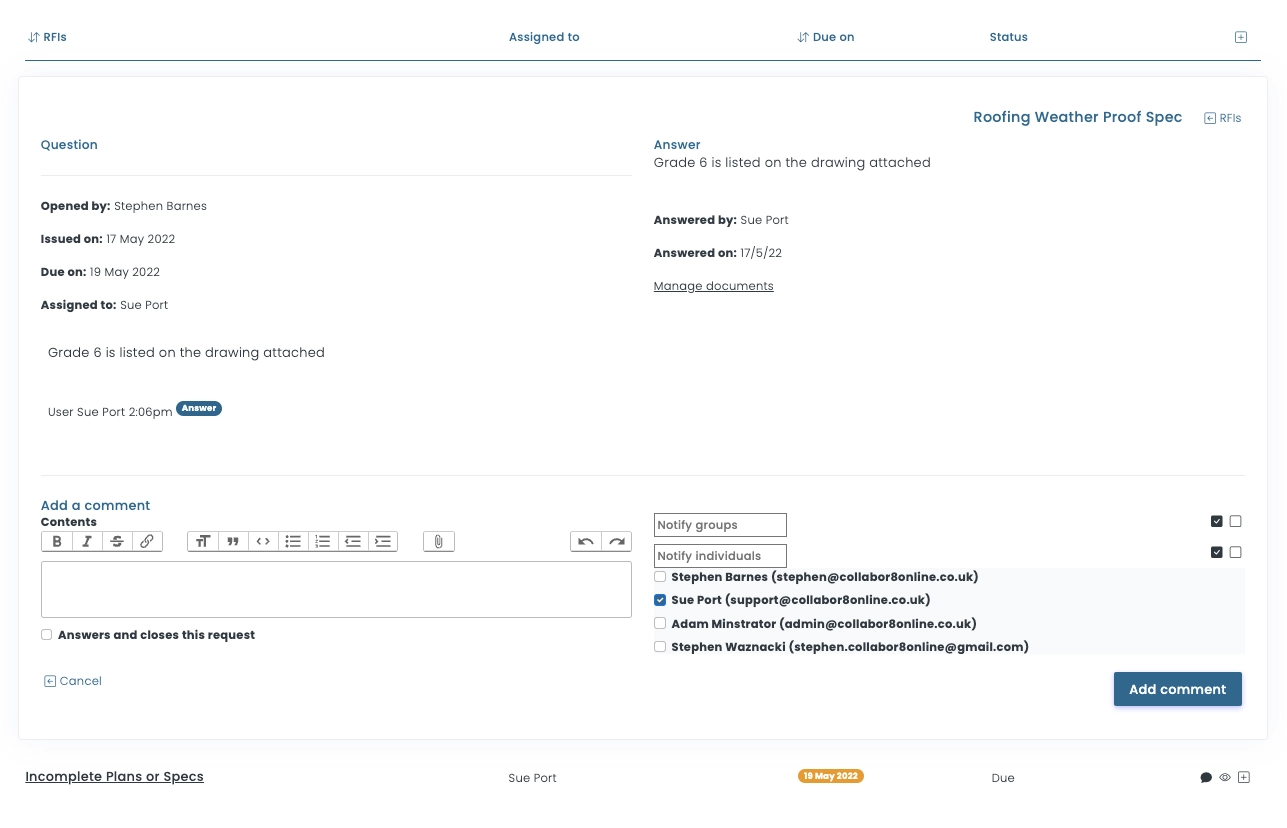 Answer RFI's By Email 
Users can quickly answer RFI's via email simply by replying to their notification without the need to log into Collabor8. This streamlines the RFI process ensuring your teams are not waiting unnecessarily. Additionally any other user may comment on a RFI, adding to the discussion and contributing valuable information as required.

Free Demo
Request a free demo and start sharing your files securely and easily within your business.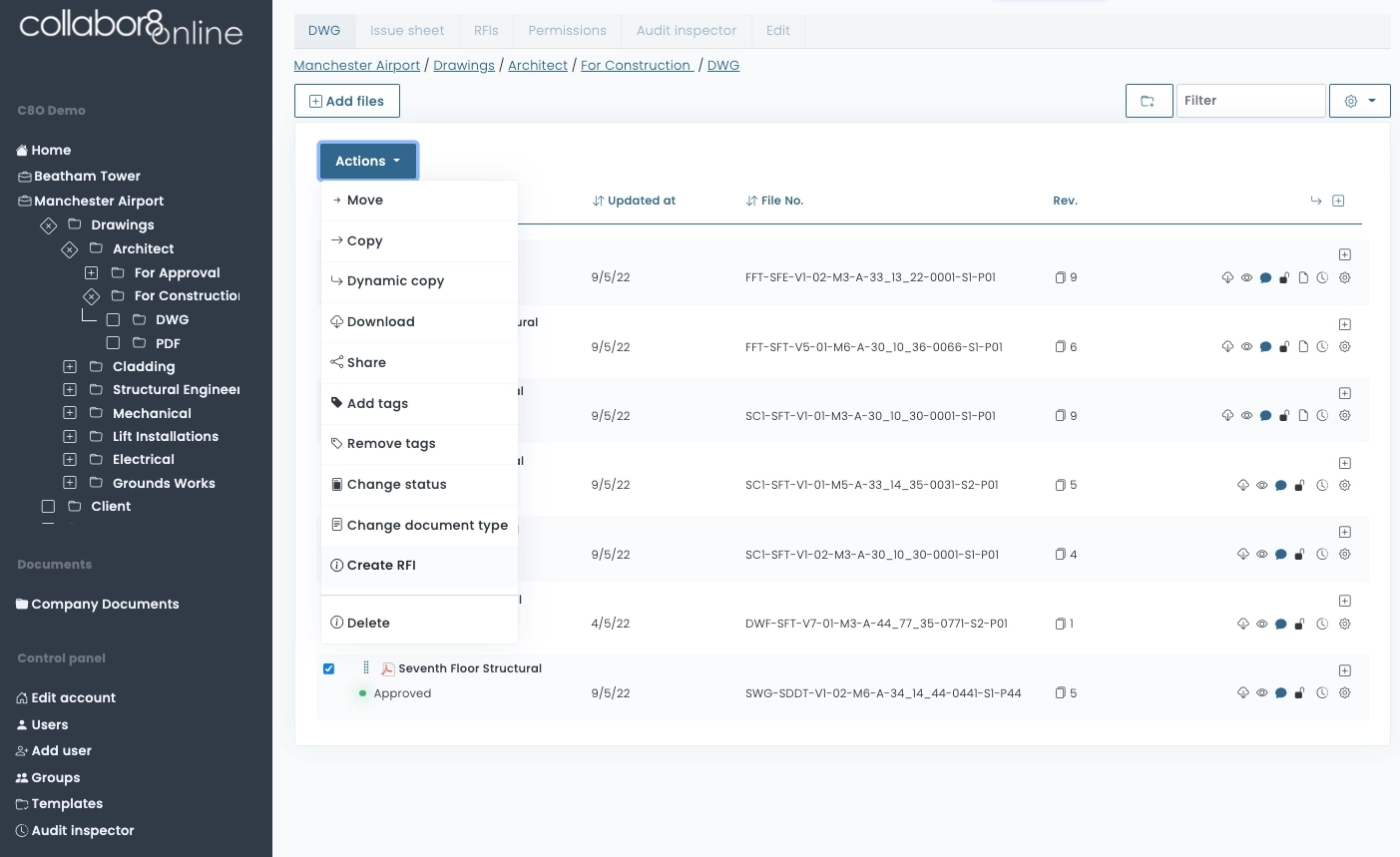 Link RFI's to Drawings 
Collabor8online is RFI system allows you to link one or multiple files from your account to a RFI. Ensuring that all of the relevant information is connected to the request. This ensures that all parties are in full possession of all of the facts related to any request. 

Full Audit History of All RFIs
Retain a full audit history on all RFI's across your project lifespan. Fully capture the email thread within the audit history with time stamping and key steps of the process such as the formal answer of the RFI and when and who closed it.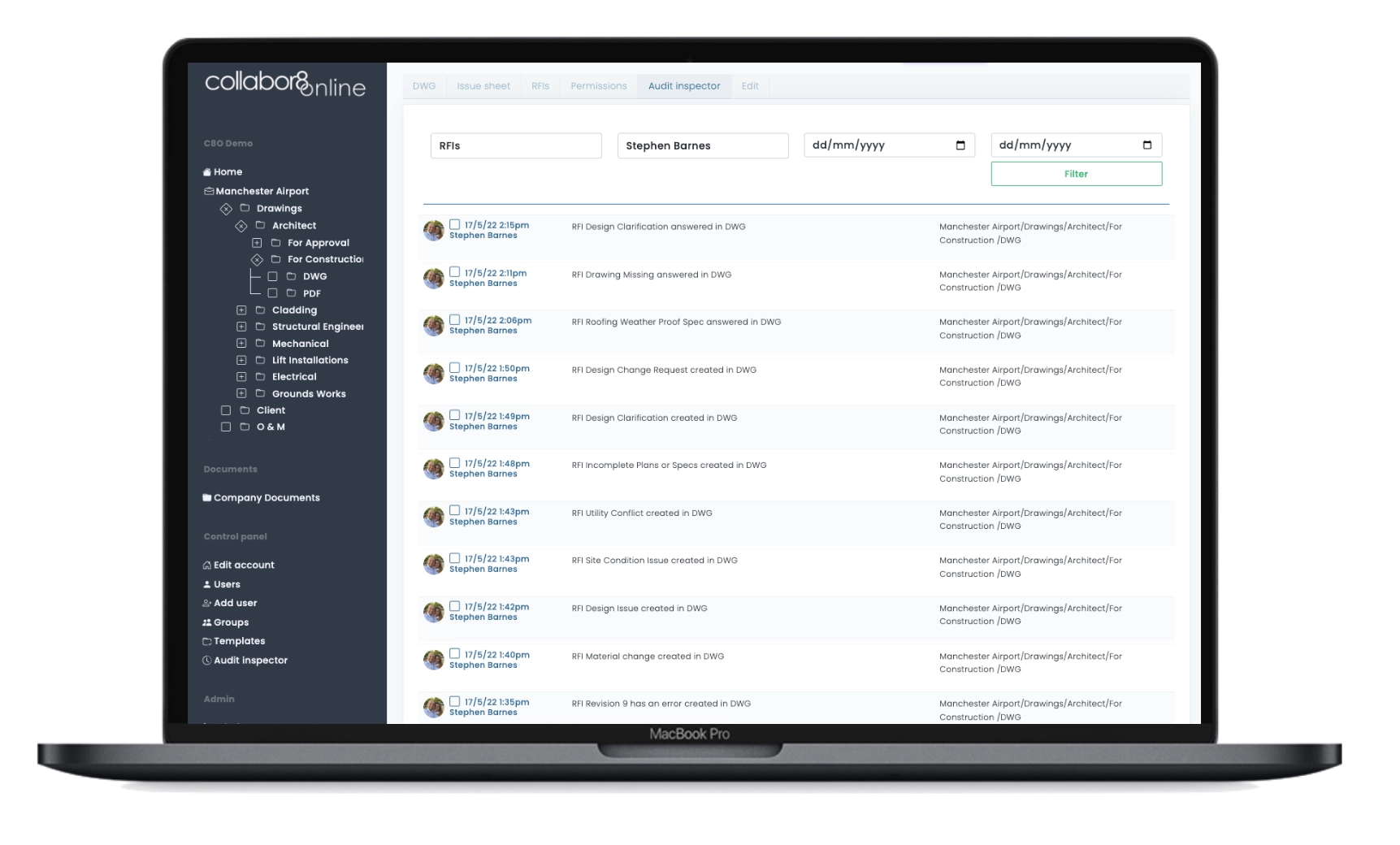 Prices and Plans
We offer a wide range of systems and services to enable our clients Manage projects online and share documents quickly & efficiently with unlimited users
.
UK Owned, Hosted and Supported
All of Collabor8online Service are UK based and fully secure, meaning we fully comply with UK and EU data protection laws and are not subject to US homeland security laws.  In order to comply with UK data protection laws, UK businesses need to ensure that their data is kept within the EU within UK owned data centres.
Monitor RFI's Via Your Dashboard
With Collabor8's new dashboard view, users and system admins can monitor progress directly from the dashboard. Specifically designed – elements allow users to:
• View status summary on all RFI is either by project or account wide
• The status any RFI's you have created
• The Status of RFI's assigned to you
A comprehensive list of all Open RFI's are colour-coded according to due date with a traditional Red Amber Green status. This ensures that time sensitive requests can be dealt with as a matter of urgency whilst others deferred as required.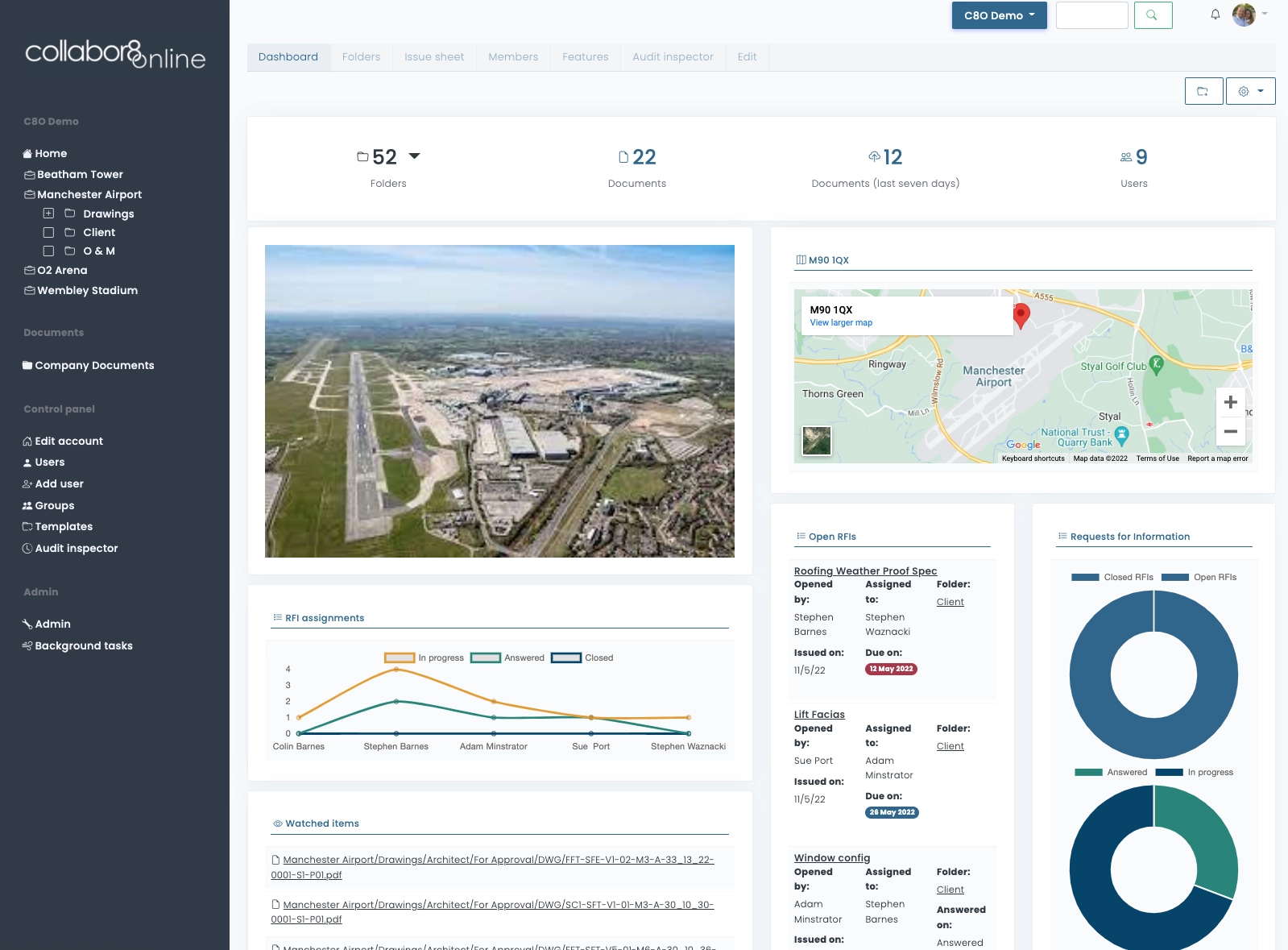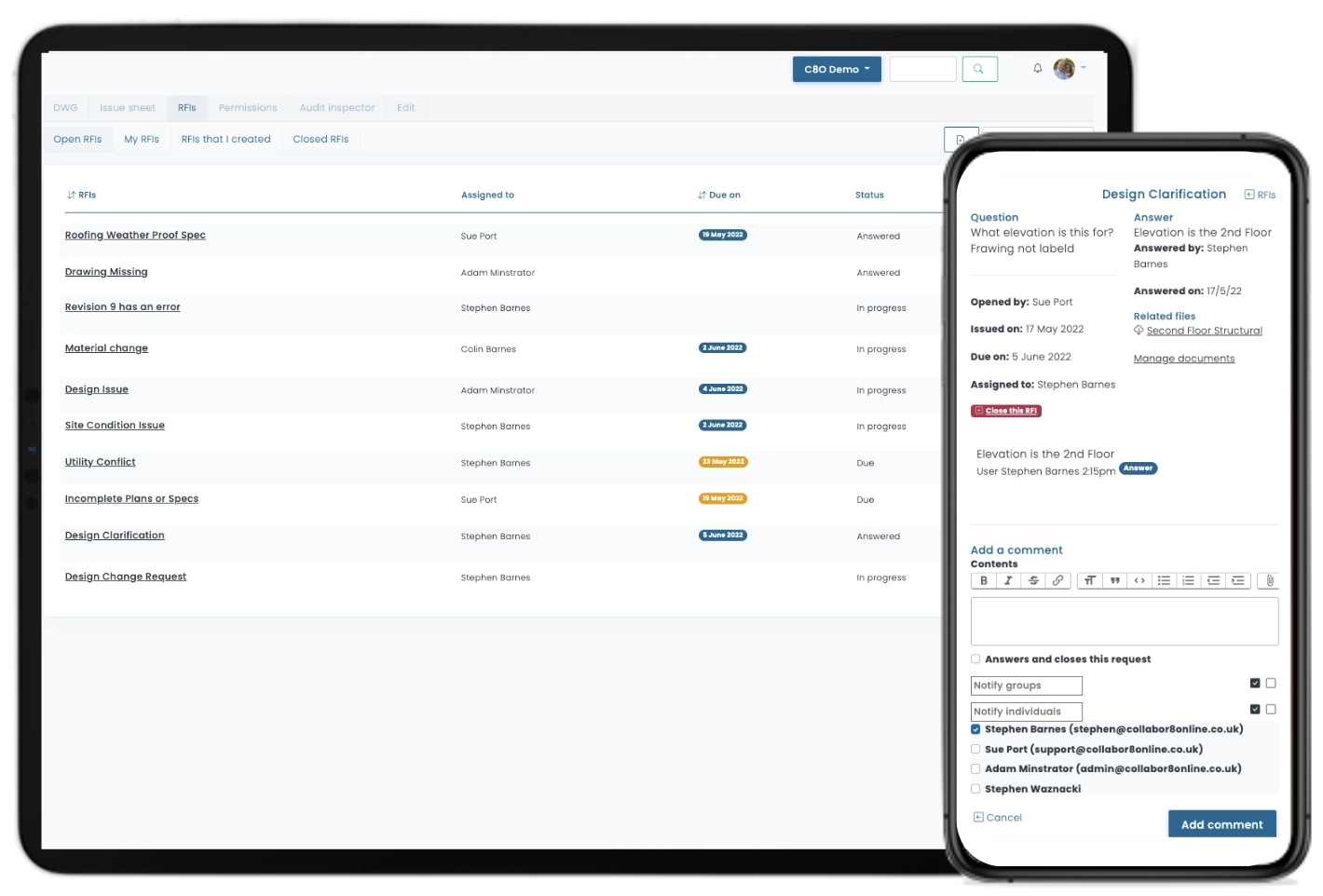 Fully Functional on Mobile and Tablet
Collabor8online is bully reactive interface enables users to seamlessly raise and answer RF's directly from the site on their mobiles and tablets.