June Release 2020 Features
Document Status :
New field "attachment status". Attachments may now be given a status, either at the time of upload or by using the actions drop-down menu or by using the pencil icon

Attachment status (including default) can be defined at the top menu of your homepage

You can now sort on document status and document type

Move and Copy functionality now uses the smart add -matching process to match and increment version numbers were appropriate in the destination folder.
New Feature Drop Zone – allows users to drag and drop files and folders when uploading new documents/attachments. Note this feature needs to be enabled in company details – By checking the box "Enable drag and drop file uploads" –

 

once checked the following functionality will apply. 

A new upload button alongside add new and smart add "dropzone add" will appear. If a user clicks on this button – A drag and drop space is created – where files or folders can be dragged and dropped for upload. please note the following:

This is a beta test release and should be used with caution

Individual selected files or folders may be dragged and dropped

If folders contain subfolders then all the files contained will be dropped into the current folder in collabor8online (in other words a subfolder will not be created)

This removes the need for Flash to be enabled –  when uploading new files
Resend Login or Forgotten Password
Login Here
www.c8o.co.uk
; enter your email address and the password the system emailed to you (or select 'reset your password'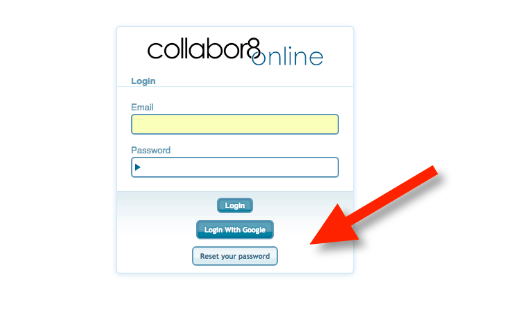 from the login screen and an email will be sent to you with instructions on how to reset your password. If you haven't received your password (or reset instructions) by email check your SPAM folder, as these emails are machine generated they are often mistaken for spam. See 
ADMNS – HOW TO RESET PASSWORD VIDEO
 or
USERS LOG IN VIDEO
Tagging Feature

Attachments or images can now be tagged either at the time of upload or at a later date by using the actions drop down menu. Furthermore, users may then search for files matching a certain tag (or tags) both within any given folder, For more information with video click here
Notifications and Controlling Permissions
A number of new features and improvements to Collabor8online had been rolled out. Notifications (Easier to tell people what's happening), The Notification email now has better formatting. Controlling permissions – you can now cascade permissions down to subfolders for selected users making it easier to change permissions for many folders. You can quickly sort users by name, email or company and administrators can now login as a user to check what they can see. 
New Features Smart Add – with Drawing Register
Is a new feature that allows you to issue and update drawings quickly and easily. Users may now add and
automatically match
drawings (to previous issues) and use the notify function to inform users on the system (usually called the distribution list) that new content has been added. those users will receive an email containing a link to the new files uploaded and a link to the drawing register that is now automatically produced.
Video Help Here
 Also
All about Issues sheets
NOTE to Admins
–
How to activate this feature
Move and Copy Files + *NEW* Bulk Download
 Sometimes users may upload a file into the wrong folder. The move feature allows users to move individual files or groups of files from one folder to another. Simply click on the checkbox next to each file and select Move from the action drop-down that appears.
Download all the files
in a folder at once. Further 
Video Explanation Here
NOTE to Admins
–
How to activate this feature
New Features added,
Share and FileShare
. Share – is a quick way of adding a new user to your account and instantly giving them access to one folder. (This function is only available to administrators)
FileShare
– is a way of sharing individual files with users who are NOT users on your Collabor8online account.
See more here with video overview 
Share and FileShare
Top 5 Questions with VIDEO answers

How do I invite others to Collabor8Online
Simply add them as users to your own system,  users don't have to purchase their own version of the software or even buy a licence you can add them to your version of Collabor8online. Simply add them as a user and the system will automatically send an invitation e-mail with password and instructions on how to login. –  see our
adding users VIDEO
How do I decide who can see my folders or files
You decide which folders each user can see, each folder can have different permissions, for example subfolders can have different permissions to their parent folders and so on. What's more for each folder you can give users view, view and edit, view edit and delete access levels, giving you exact control over who can just view, or view and add content See our video–
All about permissions VIDEO
Can I upload any type of file
 Yes. A few file types are restricted for security reasons, e.g. .exe and .com files but generally you can upload any type of file–if you're having any difficulty just e-mail support@collabor8online.co.uk – we can usually resolve any file type issues for you. See
Add attachements VIDEO
Can I add more than one file at a time
Yes, when selecting a file to upload simply hold down the control key at the same time as you click on the file, you can then click on any number of additional files and the system will upload them at the same time. Alternatively, if you hold the shift key down when you click, you will select from ( the first file), to the last file that you clicked on. Note you cannot upload an entire folder with one click ( we're working on that one), but if you use shift and click as above, with two clicks you can upload the entire contents of the folder (so it's pretty much the same) See
Add attachements VIDEO
How Do Templates work
Templates allow you to Quick start projects or create any group of folders from a template. First create your folders, contents (including attachments and images in the template section in the left-hand navigation pane. Then, when you create your project folder select from the "use template" drop-down menu. the folders, contents and permissions will be replicated into your new project folder (you can then amend or adjust contents and permissions as you wish) –
See Templates VIDEO
 More Support Resources   Read More Help Articles 
How does the 30 day Free trial work? If you sign up directly onto either Hosted, Premium or Low plans, you won't be charged for 30 days. We take your credit card details, but there is no charge for the first 30 days. If you cancel your plan any time during those 30 days, you won't be charged a thing! Signing up to Collabor8online is entirely risk-free.
SIGNIFICANT UPGRADE
– We've improved just about the most basic feature within Collabor8online, that is the way that you add attachments and images to the folders you create, this upgrade will
affect all users who add content
check out the
Add Content Video here
. Also, we've made it easier to find the folders that you're looking for for by introducing
an alphabetical sort
on the left hand navigation bar check out this
Sort Folders Video here ROLL OUT JUNE JULY 2014
To-Do items – include times
,
NEW Time picker
introduced,
NEW Recurring and Alerts,
E-mail integration
enhanced,
Desktop Folder Sync tool
now included for Admin users
Read More and Videos Here
A few More Pointers
Ok Show me the full Video
Is there a limit to disk space
Yes but our professional package comes with a massive 100 GB of storage, Group 200 GB and Corporate UNLIMITED if you need more disk space please call
Contact us
for details.
How do To-Do lists work
To-do lists allow you to create tasks for yourself, or other team members. If you can add a date, or a date range to a to-do list item it will also appear in the calendar. When a to-do list item you created is marked as complete, the system will automatically send you an e-mail telling you so. You can create a to-do list for every folder that you create and you can keep track of your to-do lists and to do's that you have assigned from your homepage see
VIDEO To Do lists
How does the Calendar work
Each folder you create can have a calendar. To-do list items with a target or date range will appear in the calendar along with events. Events are calendar entries that aren't assigned to any one. For example Holidays or Project Milestones. Calendar entries from top-level folders (not subfolders) are consolidated into each users unique homepage, giving the user an instant view of up-and-coming tasks and events on projects that they are involved in. NOTE you can export calendar details to your favourite desktop calendar such as Google or Outlook by taking the link at the bottom of the left-hand navigation bar
See calendars VIDEO
Or CALL 020 3369 6491 SUPPORT IS FREE! 🙂
Try Now Free 30 Days