 Get a UK based Data Room
At Collabor8online we recognise that your company data room is an integral part of your business. A Collabor8online fully secure data room that will enable our users to have complete faith in the product. A Collabor8online data room is a secure online space where users can design there own folder structure and then invite who they would like to share the files with to the system.
There is a growing trend for businesses to make use of temporary facilities to facilitate document sharing online, with Collabor8online you can create your own virtual data room, use it for as long as you need it (i.e. the duration of your project) then take it down. With Collabor8online document sharing online is easy.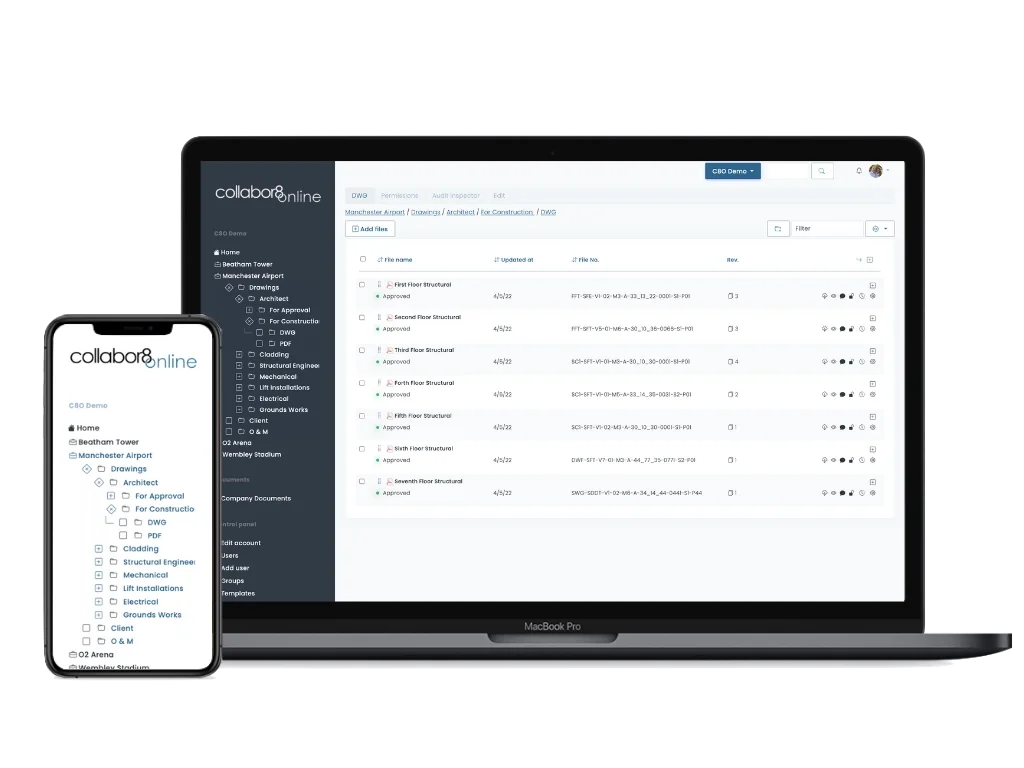 Free Demo
Request a free demo and start sharing your files securely and easily within your business.
Full Audit Trail
Collabor8online  produces a full audit trial showing you exactly who did what and when. Version control and full revision history means that you can revert to any earlier version of any document, any time.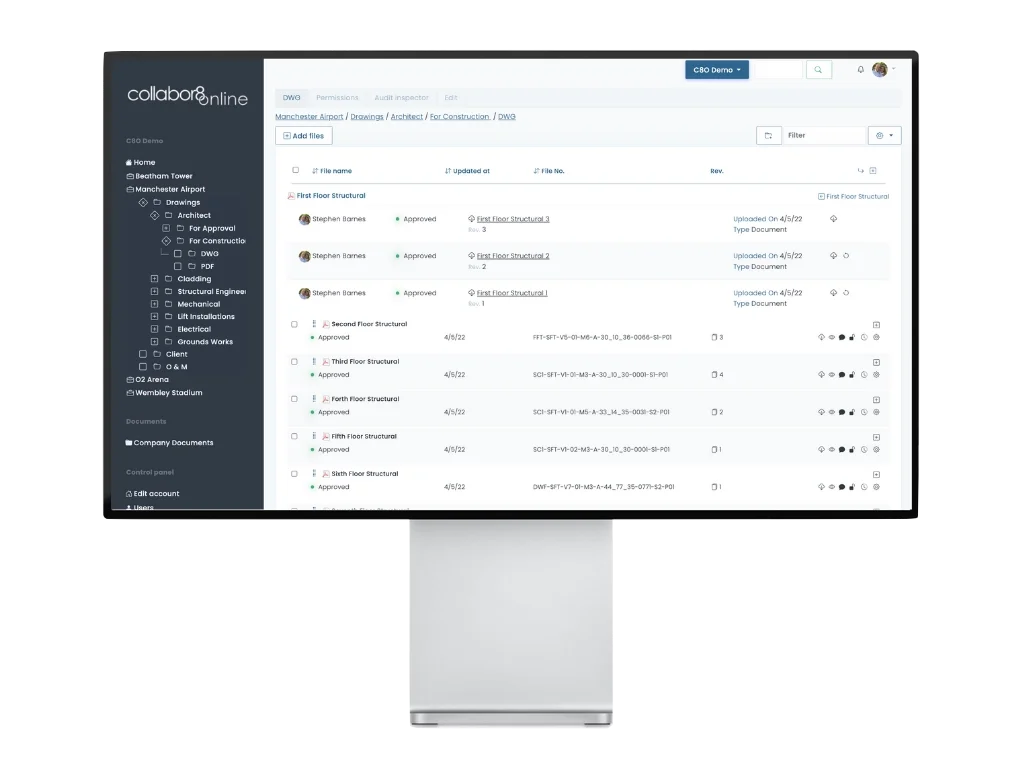 Data Room with Unlimited Users
A valid audit trail is essential for any project management system, shared user credentials reduce the accuracy and reliability of such reports, we, therefore, offer unlimited users within one fixed monthly plan. Furthermore, if you wish multiple projects can be managed within one account, ideal for small works departments or separate divisions within the same company.
Control Who Has Access
Collabor8online allows system administrators to take full control of document permissions.
System administrators have full control over who can see what. View, edit and delete permissions can be given for each folder or subfolder putting you in complete control. Users and Clients only get to see the information that is relevant to them and that you want them to see. The full audit trail tells you who did what and when.

Easy to Set Up
We aim to make your data room as easy as possible to set up. If you like will even set it up for you and preload the data (call for details). From signup, you can literally be up and running in 60 seconds. Thereafter you simply create folders, just like you would on your  PC or Mac and then upload files, images, documents, drawings or whatever you like into those folders. It's that simple.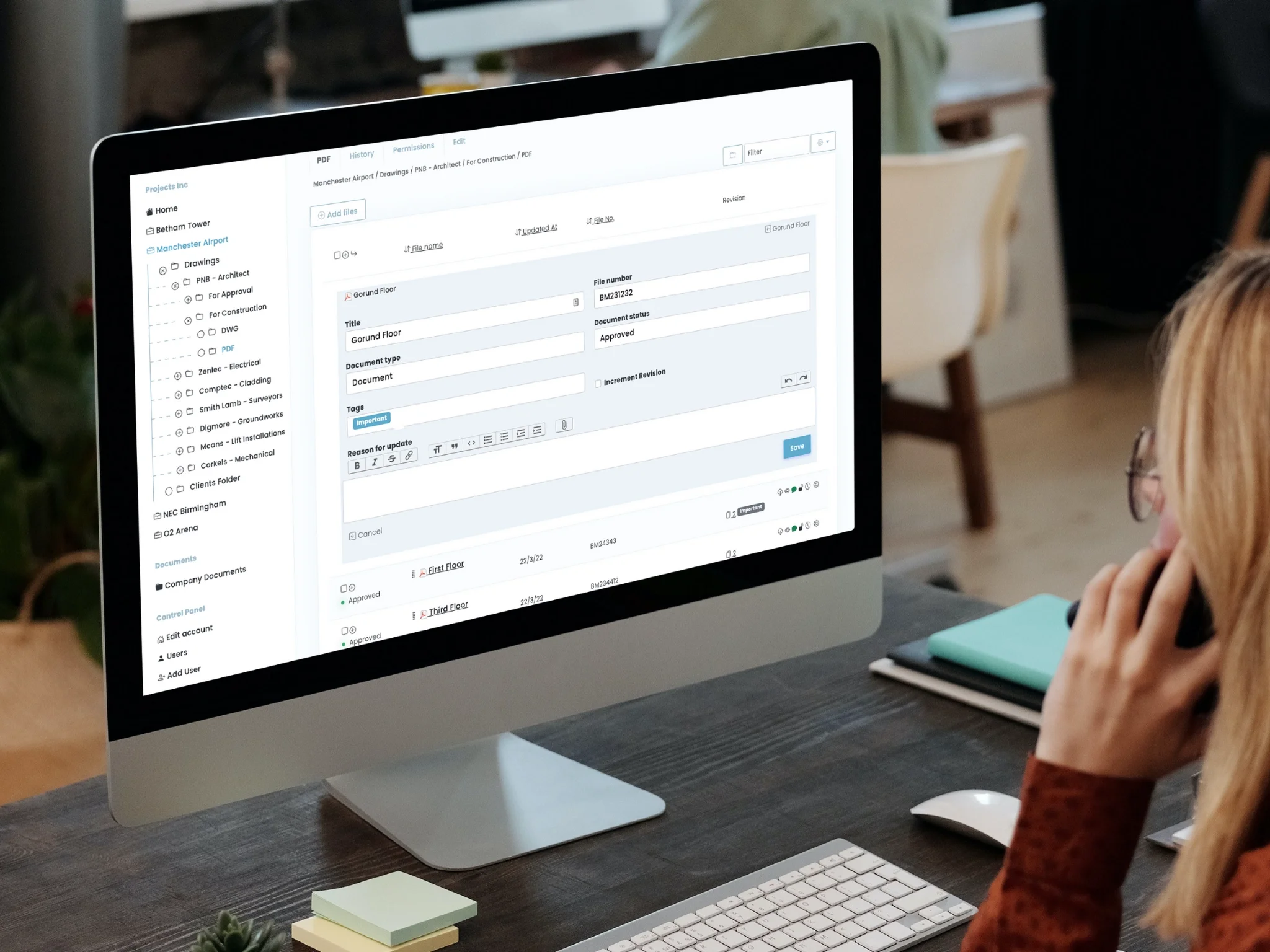 Prices and Plans
We offer a wide range of systems and services to enable our clients Manage projects online and share documents quickly & efficiently with unlimited users
Manage & Share Files Securely
File Sharing Online quickly and easily with Collabor8online, documents can be shared in view only, or with edit and delete permissions. System administrators have full control over who can see what, giving system administrators complete control. Existing users permissions can be copied when setting up new users. Collabor8online is online document sharing, the easy and secure way.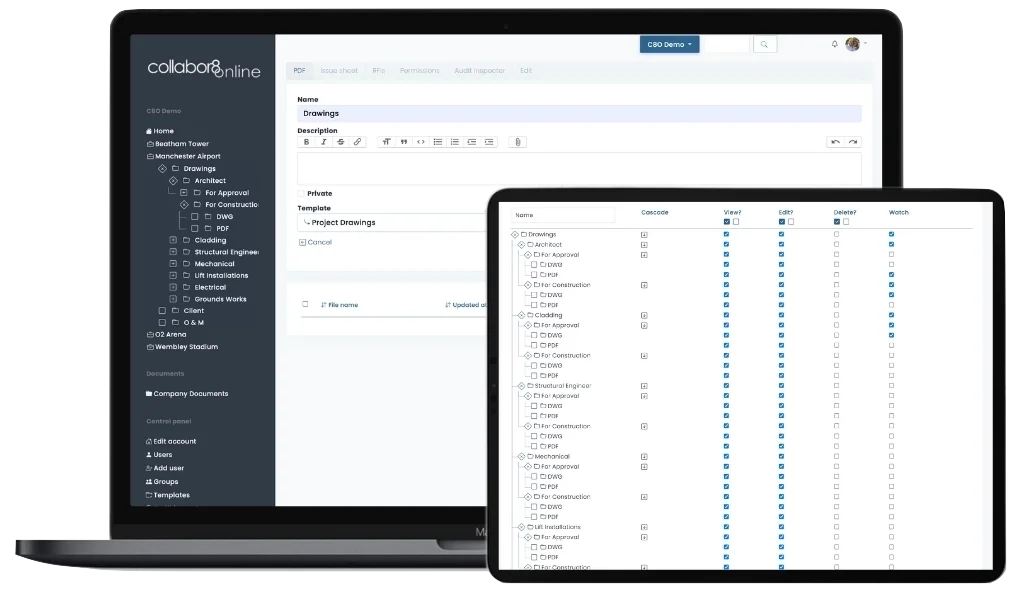 "We have found Collabor8online particularly easy-to-use, which was a key requirement for us"
Louisa Power
Special Projects Officer, NSPCC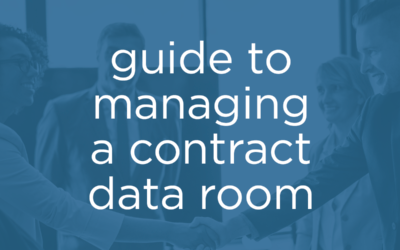 If your business works in contracting, then you may have come across the concept of a data room as part of the essential document sharing and document management processes needed as part of the due diligence or contract management process. In earlier years, paperwork...
Your new project needs a data room but you have got no time to set it up. You haven't got time to familiarise yourself with the software, create a file structure that will suit your project, your users and your needs AND then show the rest of your team how to use it!...