Construction Drawing Approvals 
Streamline Your Drawing Approvals
Collabor8online allows you to build your own workflow relating to any given construction drawing approvals process. You can even have multiple different types of approvals depending on each project or situation. Once you have defined an approval process, the process can be automatically attached to any document uploaded into any particular folder or workspace. Users will be automatically notified that an approval task has been assigned to them making the operation entirely seamless.
Design Your Own Approval Process
 You can design a simple approval method, whereby one of your users has the authority to approve a set of drawings or, you can cater for more complex processes which might require approvals by combinations of engineers and managers or entire teams whereby one or all team members are required to approve. The entire process is driven by email notifications, alerts and alarms and a full record is kept of all approvals, including those items approved late and by how many days.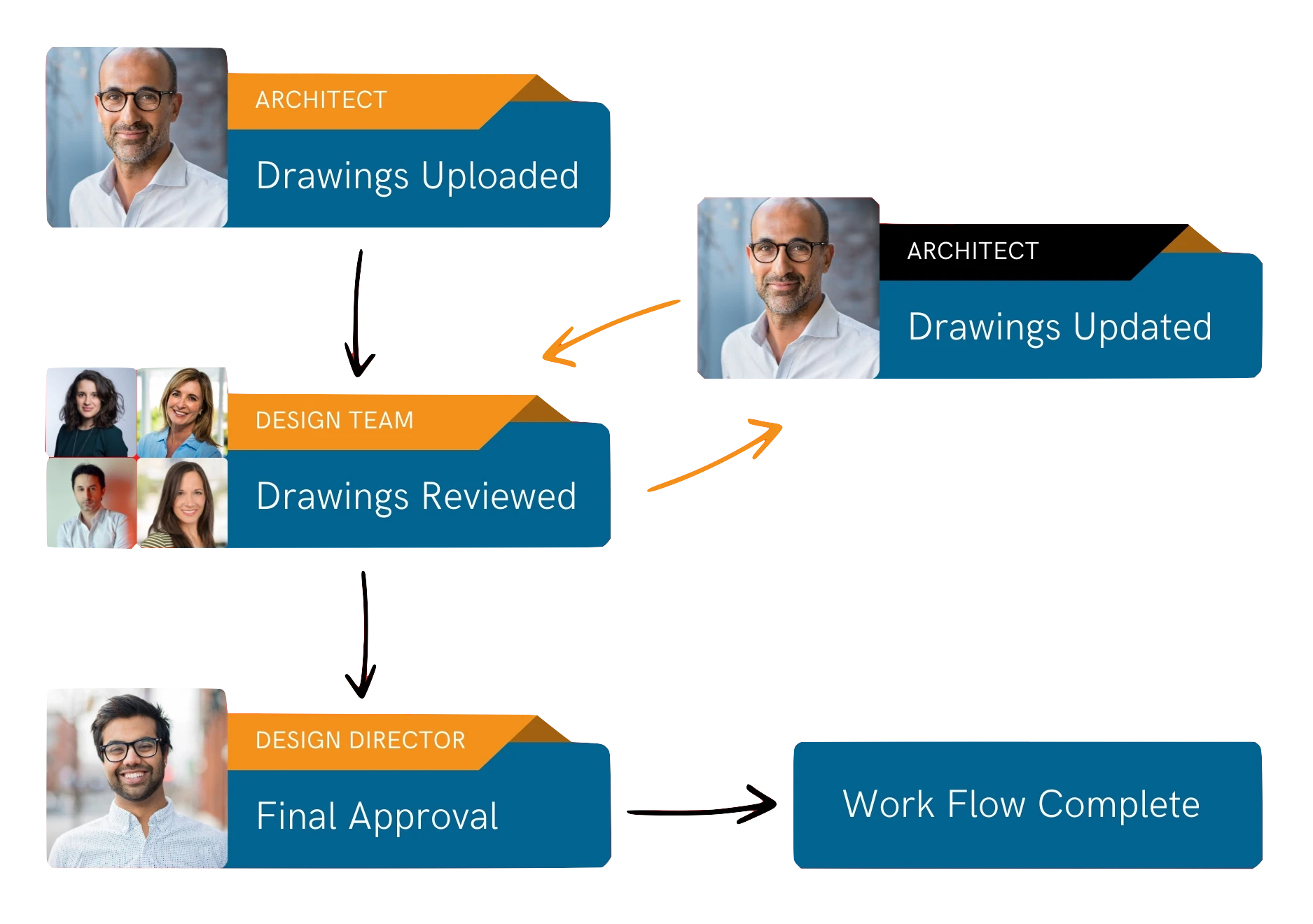 Total Process Visibility
All users working on any project, assuming they have the appropriate permissions can see the state of any document approval at any time. Approvals may be shown as outstanding, in progress or completed, enabling instant communication between team members and visibility of all processes at all times.
Free Demo
Request a free demo and start sharing your files securely and easily within your business.
Approvals Dashboard
Our dashboard is a tool used by project managers and team members to visualize and monitor progress on specific projects. It displays information about individual tasks and assignments, which are assigned to each team member. The dashboard provides a clear and concise view of who is responsible for what, and the status of each task.
The traffic light system in the dashboard acts as a warning mechanism, highlighting any impending or overdue items. For example, tasks that are due soon may be displayed in yellow, while those that are overdue may be displayed in red. This allows project managers to quickly identify and address any issues, ensuring that the project remains on track.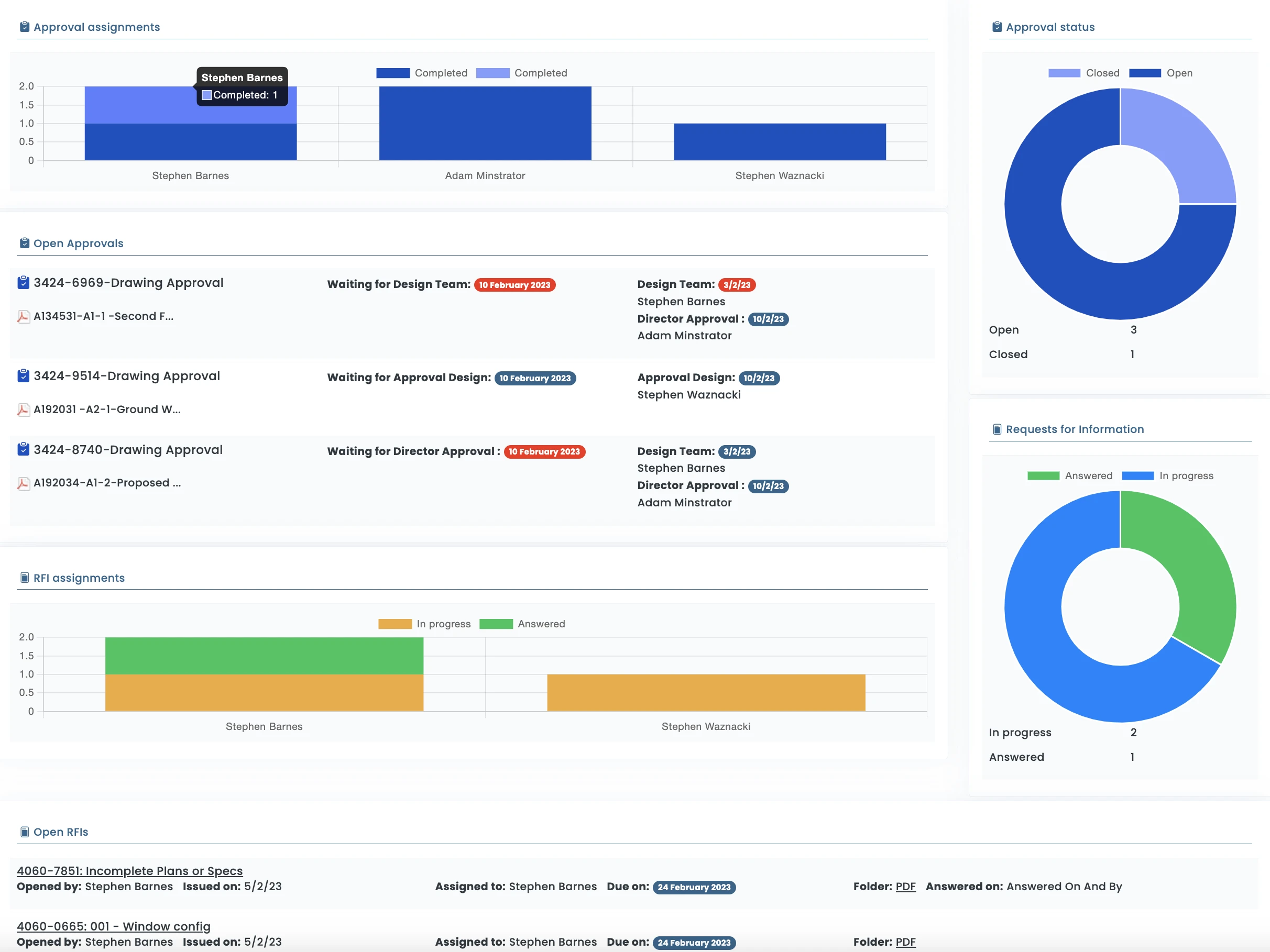 Comprehensive reports are also included in the project dashboard, which displays current as well as historic data. This allows for accurate reporting in real-time, as well as over the history of the project. The reports provide insights into project performance, including progress against key metrics. This information can be used by project managers to make informed decisions and adjust the project plan as needed, to ensure that it stays on track and meets its objectives.
Manage Your Teams Workload
Using a document management solution is an important tool for managing a team's workload as it helps teams to store, organise, and access all of their important documents in one central location. This can improve efficiency, reduce the risk of errors, and simplify the collaboration process between team members.
Collabor8online provide features such as version control, access control, and document collaboration, which can help teams to better manage their projects and ensure that everyone is on the same page. Furthermore, Collabor8online can also help teams to meet regulatory compliance requirements such as BIM, and ensure that sensitive information is protected and secure. By using a document management solution, teams can improve their workflow and increase their productivity, which can ultimately help them to manage their workload more effectively.
Construction Document Management
Email Integration
Collabor8online allows users to receive and respond to notifications and communications through email. The term "pushed" refers to the fact that the notifications are automatically sent out to the users via email, without the need for manual action. This means that users can receive updates and notifications about their projects, tasks, and team activities, directly in their email inbox.
The benefit of this feature is that users can manage their tasks and activities without having to log in to Collabor8online. They can simply reply to the email they received to indicate their response or update their status, and the reply will be automatically threaded back into Collabor8online. This can save time and improve the efficiency of communication and collaboration within the team.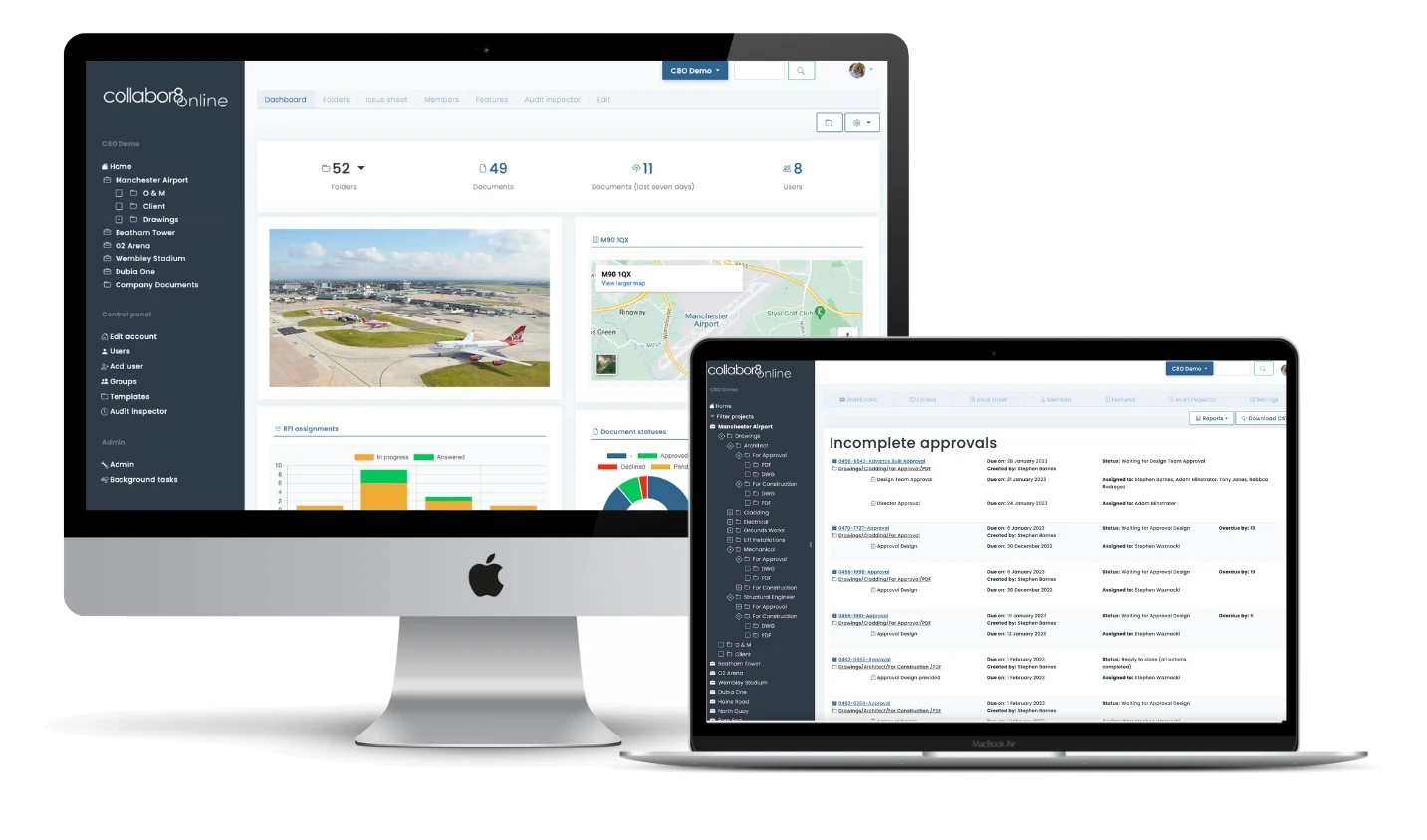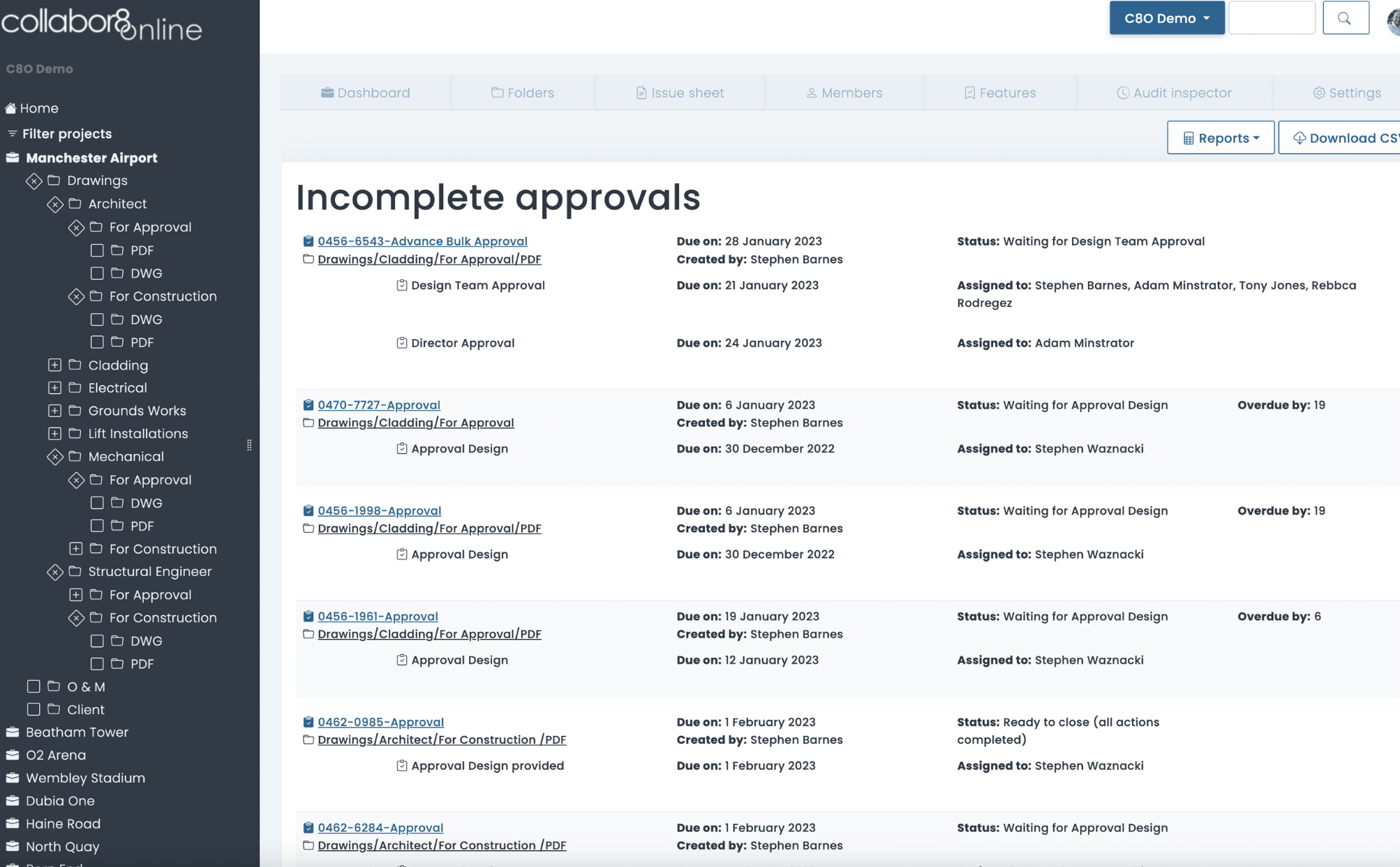 Custom Reports
Custom reports within Collabor8online offer numerous benefits for businesses looking to streamline their operations and improve their decision-making processes. With the ability to generate tailored reports based on specific business requirements, you can easily access the data and insights you need to make informed decisions.
These custom reports can help you track key performance indicators, identify areas for improvement, and stay on top of project progress. Furthermore, the reports can be generated and shared in real-time, providing instant access to up-to-date information. With Collabor8online's powerful reporting capabilities, you can ensure that your team is always working with the most accurate and relevant data, improving efficiency, and driving success. Don't miss out on this valuable tool – upgrade to Collabor8online today and experience the benefits of custom reports.
Prices and Plans
We offer a wide range of systems and services to enable our clients Manage projects online and share documents quickly & efficiently with unlimited users
.