Document Management or Document Control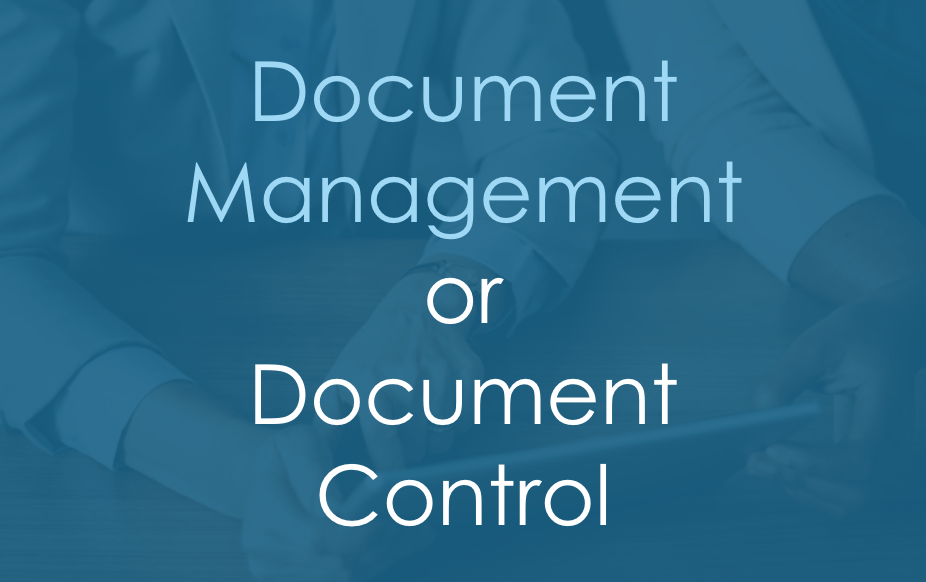 It's interesting to state that when we started to talk to businesses many years ago about "document sharing online" the majority of potential clients simply didn't know what we were talking about. If you had a 
document you needed to share, surely email was the way you did it. A colleague commented that "email and apathy" were the biggest barriers we had to overcome when marketing your product.
Nowadays, I think it would be safe to say that the barriers have moved and that most customers realise the email is a truly dreadful, to say nothing of unprofessional way to share your documents. Nowadays 
most users are willing to share their documents online, although their tools of choice tend to move towards what's quick and easy rather than what's truly fit for purpose.
Hence the rapid uptake of the likes of Dropbox and Google Drive for sharing documents. these low cost, easy in, easy out solutions provide a quick fix to any file sharing solutions with probably the most 
important aspect being that colleagues and contacts outside the business are usually more than willing to adopt a product that they probably already use within their own business. However, this singularly fails 
to address whether these products are remotely suitable for the business needs, with the most obvious concerns relating to security and of course the overall lack of professionalism that these products convey 
when used in a true business environment.
At this point, I haven't mentioned SharePoint. 
Which probably would best be described as file sharing as specified by your own IT department. Again, forgive me for looking backwards, but when we launched our 
earlier products in around 2010, we were asked how we could compete against Microsoft's (SharePoint),  
at that point we said we weren't really concerned because we did different things. Principally 
that we offered a file sharing solution that didn't need an IT department an array of servers and most importantly, it worked straight out of the box, please see our earlier article 
It now seems that SharePoint 
is likely to be assimilated under the One drive brand, as Microsoft continues lurch, sorry move from one philosophy to 
another.
So, far from making the leap from file sharing to document Management  it seems that SharePoint in an attempt to be all things to all men, has mutated into very much a "lack of Management" solution and all too often resembles a cluster of 
intranets with individual teams cloning documents in delivering and distributing them to suit their own agenda.
To achieve document management, you need a more mature solution, that moves towards version control and perhaps more importantly, restricts management of documents to a specific group of administrators who will, define the lines of communication, folder structures and access rights that the whole group or team must buy into.
 The highest level of course should be seen as Document Control. In this area were moved towards achieving compliance standards such as ISO9001,  such systems would include comprehensive audit trail, workflows and approval processes, activity history  giving the ability to see who did what and when. It's not so much having the latest document, but understanding how you got there that's important in many instances.
Ease-of-use is obviously of prime importance as only by presenting a truly easy-to-use product will uptake in adoption began to do amongst your colleagues inside and partners outside your business.
Collabor8online allows you to take control of your document management system.

Collabor8online is a Document Management Solution that allows you to manage all your project documentation safely and securely. Easy to setup and use, Collabor8online is cost-effective solution that gives you full control of your project documents and who has access to them. Automated document registers and full version control ensures that users always work with the most recent versions and the system maintained activity audit provides a comprehensive audit trail.