The issues with using SharePoint as your DMS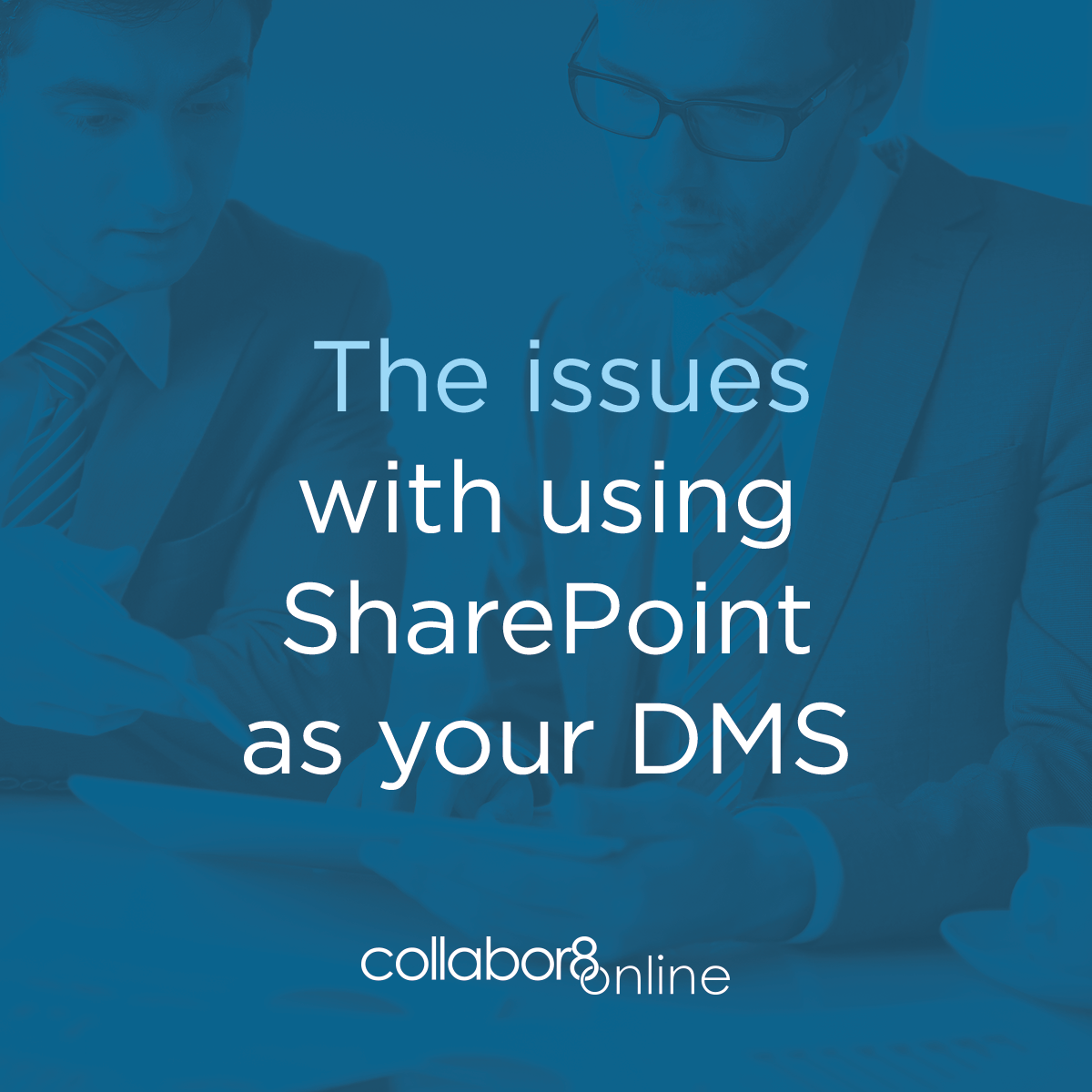 A paperless office is the goal for many businesses, large or small, but finding a document management system to suit you can be more stressful than trawling through paperwork. There are a number of routes you can head down when it comes to selecting the right DMS for your company. However, the popularity of one solution over another doesn't necessarily offer a true reflection on its capabilities.
With the opportunities afforded by the cloud growing every year, Microsoft SharePoint is well-known and can be used as a DMS, but it isn't without its flaws. In this article, we'll look at the potential issues to help guide your decision.
Complicated Set-up… And That's Just The Beginning
There's no reason why setting up a DMS for your business should take longer than a few minutes, but apparently the people over at SharePoint didn't get the memo. Although SharePoint does have some out-of-the-box functionality, if you're looking for a system that really caters to your company's needs, the likelihood is that you will need to work with a developer to get your system set up and running smoothly, which can require a significant investment of time and money. Collabor8online offers a simple start-up and can be up and running in minutes, allowing you to get on with the work that really matters.
But it isn't just the set-up of SharePoint that can be complicated and costly; the maintenance and operation of the software can equally leave you out of pocket and scratching your head. Many companies offer SharePoint training courses, which should give some indication of the fact that it may not be the easiest to use. Additionally, to get the most out of the software you'll probably need to be working with someone who is well-versed in SharePoint development, which can be an added and unnecessary expense for your business.
Puts A Limit On Productivity
Once you've managed to get your SharePoint system set up according to your needs, there remain several issues with the service that can throw a spanner in the works and hinder the productivity of your team. Being a Microsoft product, the SharePoint system can place restrictions on certain file formats, such as some CAD files, rendering them unshareable. Collabor8online provides an efficient software that is easy to use and allows you to share the files that you need to, including PDF and CAD formats.
Not The Most Cost-effective
We've already established that SharePoint can be costly to set up and maintain, but what do we know about the subscription fees?
The first thing we noticed when scoping the SharePoint website is that the subscription fees for each package are quoted per user, per month, meaning that every time you choose to add a user to your SharePoint system, your monthly bill will increase. SharePoint fees range from £3.80 per user, per month to £17.60 per user, per month. Before long, the cost of sharing projects with your colleagues through SharePoint can start to add up.
Collabor8online offers a service that is limitless – unlimited users, unlimited projects. Our product packages have been designed to enable exactly what we promote – collaboration. Whether you need to share projects with team members, directly with clients or with external contacts and subcontractors, our packages ensure you never have to worry about exceeding your number of licences or having to pay for additional users.
Find out how our document management system can promote productivity in your business today by requesting a demo, or view our subscription options for information on pricing and a full list of the capabilities of Collabor8online.