After a huge amount of hard work, including some blood, sweat and maybe even a few tears we are delighted to be able to announce the launch of a new version of Collabor8online.
This is officially described as a "significant upgrade", it has involved server, software and environment upgrades – without getting too technical–just about everything has been improved! It's been a huge effort, primarily led by the development team, which has been expanded to include designers as well as, support staff, sales staff and of course you, our clients. In the words of Freddie Mercury "We thank you all".
Without resorting to that awful word "reimagined" (is that a word?), we have taken a close look at just about every aspect of the program, we have a new "user interface" that's even easier to use and navigate your way around. We've looked at our Calendar function and made it clearer and easier to integrate with Outlook or Google and we had a very close look at our task management system or "To-Do lists" as we call them and added a whole range of new features. Task descriptions can now be just about as long as you like and you can now add comments and attachments to them too!
Of course the old stuff is still there, you can still share files with your clients, colleagues or other members of your team and have absolute control over who can see what and when. Oh, and we've made it even easier to send what we call "push notifications" to inform your team that you've added new content.
This is just the beginning; this upgrade has laid the foundations for an ongoing development program that will continue over the coming months. But this upgrade has set the tone, easy-to-use, reliable and fast.
We are aware that more companies are turning to online project management and collaboration tools, and as our own, and the sector's popularity grows we are looking to continuously improve our product. Giving you the tools to keep everything organised, together, and up-to-date.
With thrown in some screenshots below. Notice how the homepage shows you everything about all your projects. You can drill down and see specific information about any aspect. Notice the faces–it's not just a trend, all humans recognise faces more quickly than just about anything else. Everything is there, from the activity feed for normal users and the activity audit for administrators and managers.
We invite you all to check it out, everybody gets 30 days free, With the new version you can create as many projects as you want AND invite as many people as you want. As our way of saying thank you all expired free accounts have been reopened for 30 days!
There really is no better way to share files and communicate.
The New Homepage keeps you up-to-date

The Lower half of the Home page shows you more!
To-Do lists show you tasks & you can comment on just about anything!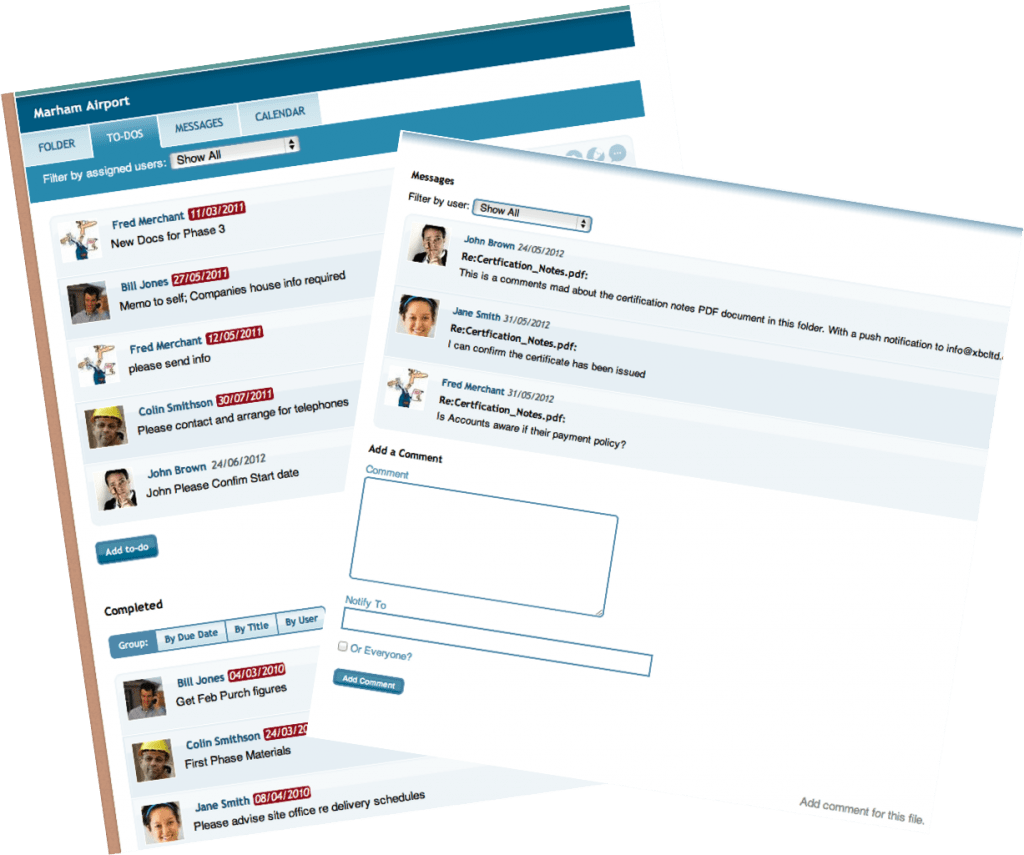 Call 0203 369 6491